The Hancock-Henderson Quill, Inc.

---
La Harpe's Christmas Open House
-by Holly Willdrick, Quill Staff
The La Harpe Annual Christmas Open House was held on Saturday, November 24.
Many of the business had special door prize drawings, the Festival of Trees was on display at the Methodist Church as well as the Sweet Shop, the La Harpe Historical Society had several old model train sets on display and of course the parade that brought Santa to town.
The streets were full most of the day and it was great to see the community out and getting into the Christmas Spirit.
After the parade the children gathered in the La Harpe City Park where Santa listened to all their wishes and handed out a little treat to each one.
The La Harpe Methodist Church was one of the top spots to stop for lunch. They were hosting the Festival of Trees and the church ladies were serving soup and other lunch items as well as dessert.
The Sweet Shop was also there again this year for people to purchase that sweet treat to take home for later.
Festival of Trees Winners included:
Adult Division
Grand Champion - Garden Club
First Place - Tinks Cafe
Second Place - Jones Insurance
Third Place - Bev Anderson
Fourth Place - Historical Society
Fifth Place - Time and Chime
Sixth Place - Hitz Family
Children Division
Grand Champion - La Harpe Elementary and Jr. High
First Place -Girl Scouts Troop 5003
Second Place - Girl Scouts 7th and 8th graders
Third Place- Boy Scouts
Fourth Place - La Harpe Methodist Sunday School
Fifth Place - Agape Youth
Sixth Place - La Harpe 4-H
If you stopped in to see the trains at the museum what a treat you had. The museum sign was turned in to a railroad crossing sign made by Dan Gillett and the lights were even flashing.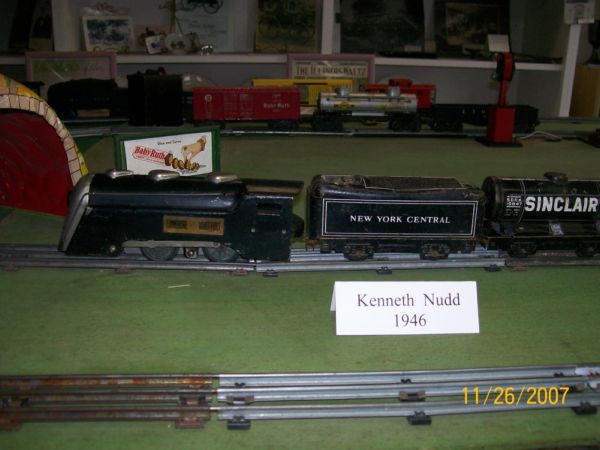 Kenneth Nudd was there with his 1946 electric train set. His was the only display that was up and running and he was there all day to show the community how it worked.
Many children commented that it was the highlight of their day.
Also lending their trains for display were Danny Collins with a T.P.&W. (Toledo, Peoria and Western Railroad) set with the depot made by Bev Anderson, Dan Gillett with a set from 1956, Wayne Humphrey had his father's, Wallace Pearl Humphrey, 1899 black engine and four red cars on display, Myrtle Fife's train was from 1916, Harry Fark had a display from 1957, Susan Van Winkle displayed her father's, Donald Dobson, train setfrom 1947 and Jim Ford and Dr. Steve Rodeffer had a display from 1960.
Bev Anderson had a newer display model complete with village. Also contributing to the displays were George Link with a small set, Zenith Thompson loaned a wooden engineand Opal Coffey displayed a silver train bank.
The Historical Society also held the drawing for the quilt made by Mytle Fife, which was won by Isabel Rossey, a one year membership won by Nancy A. Parrish, choice of Peyron History, Family record or ornament was won by Lillie Carr and the drawing for 18 and under for a choice of ornament was Jessie Jack.
Winners in the La Harpe Business Drawing Winners are:
R&D Food - winner of a $50.00 gift certificate was Rodney Cratsenburg
CCS Computers - winner of a digital photo frame - Tracy Anders, computer speakers went to Abby Geissler and a surge protector power strip was won by Lois McConnell.
Dollar General gave a homemade wreath to Cheryl Sickels
Time and Chime's winner was Rebecca Humphrey
My Sister's Place gave a fresh flower center piece to their winner, Janet McKee
K&C Enterprises - Shane Lewis was the winner of a car cleaning kit, Tony Markey won a free oil change, and Elaine White was the winner of a scented candle.
Friends-a-Bloom - Christmas Wreath winner was Edna Collins, a candle went to Isabel Livermore, Shelly Fye took home a reindeer salt and pepper shaker set, Vieva Pence was thewinner of a rooster planter, anativity candle was won by Christy Kienast, decorative star went home with Wendell Link, Elgin Link received snowman garland, decorative wall pocket was won by Karen Mynatt and an Americana picture was won by Regan Jones.
The Quill - winner of a one year subscription was Madison Beals
Clover Tire Shop - Lee Winters winner of emergency car kit, Jim King winner of Jump Starter Kit and Alex Taylor won an Armor All Gift Set
Little Brothers - Drawing for two $20 gift certificates for Wal-Mart - winners were Morgan Mohr and Brenda Coulter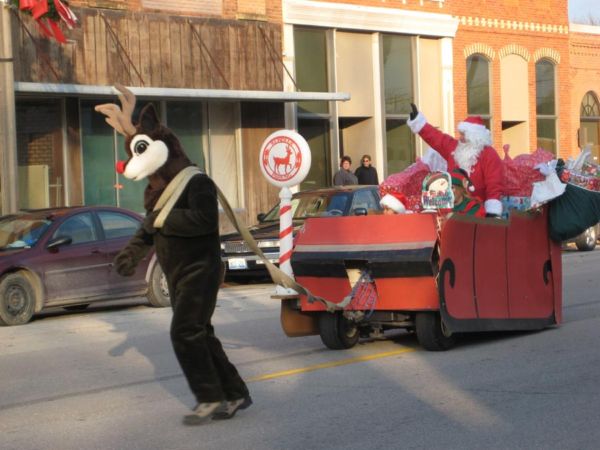 K&C Enterprises has a float with Rudolph, Santa and elves.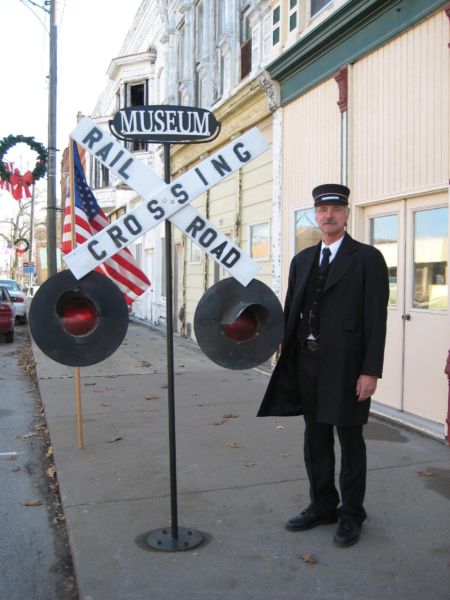 Gillett with his unique sign for the train show at the museum
---