The Hancock-Henderson Quill, Inc.

---
The "Heat" is on
by Michael Smith, The Quill
The first home game of West Central Heat high school girls varsity basketball was a tremendous victory with a smashing score of 89-28.
The Heat dominated their Westmer opponent, and proved to work well together as they scored shot after shot making for an exciting game for the smaller than usual crowd that attended.
Coach Brad Jackson, who has been coaching the team for 3 years now, shared some of the reasons for such a victory.
"They're really on fire, and it is their first home game, and they had recently lost to Quincy NotreDame by 22 points on the 24th."
With all that, it's obvious why they really came together to prove they have what it takes to be a champion team, he said.
The girls are ranked 5th in the state, and if this game is any indication of what we can see in future games, when they unite and play at their potential, they will keep and probably even exceed that ranking.
The new principal of West Central High, Philip Geiser, said "It's going to be a great season, a great year and coach Jackson is doing a wonderful job. The girls are working well together and playing hard".
Strong, focused, and no holds barred, sums up the drive in this game.
The varsity girls are looking forward to many more victories and larger crowds as they pour on the "heat" even more, game after game.
The next upcoming girls Heat games are:
12/01/07 at Camp Point 3p.m.
12/03/07 at Princeville 6 p.m.
12/05/07 at Cambridge 6 p.m.
12/06/07 at home against Carthage 6p.m.
The girls Varsity Heat team consists of:
Mariah Brooks-04; Ashley Coffey-05; Ashli Burg-10; Samantha Arnold-12; Rachel Keane-14; Abby Corzatt 20; Rachele Jack-21; Sarah Heller-22; Luci Lox-23; Miriam Rutzen-25; Taylor Cupps-32.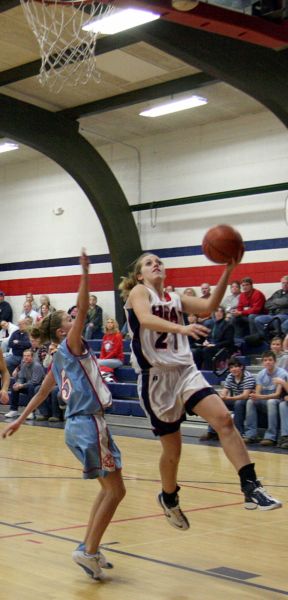 Rachele Jack goes in for a lay up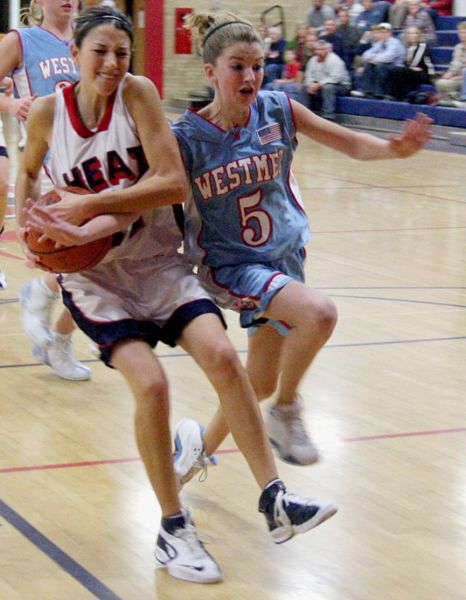 Sarah Heller fights to keep the ball
---