The Hancock-Henderson Quill, Inc.

---
Meet Your Neighbors
by Betty Jo McConnell, The Quill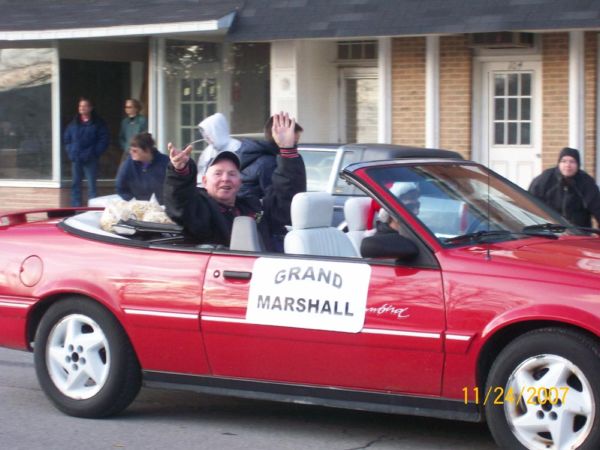 Meet Your Neighbor Bill Burt, born in Indiana and moved to Disco in 1946.
Bill graduated from La Harpe High School in 1960 and began working at J I Case in 1962 where he continued to work until retirement in 1992.
Bill married his wife,of 43 years, Judy (Smith) in 1964 and moved to La Harpe.
They have two sons, Brad (Brenda) Burt and Chad (Melissa) Burt and five grandchildren, Cassidy, Marlie, Jonah, Shaun and Garett.
Bill says he really enjoys retirement and "thanks the good Lord for his health and well being."
He's an active member of the Union Church, joined the La Harpe Volunteer Fire Department in 1967. He has been a member of the Masonic Lodge since 1968 and is the Master for 2007 and is also a member of the Shriners.
In his free time Bill's hobbies include relaxing in his swing in the yard, spending time with his grandchildren and attending sporting events.
Bill was selected as the 2007 Christmas Parade Grand Marshall.
The La Harpe Grand Marshall is selected based on an individual or group of people who are community service minded and promote community spirit either through their business or volunteering of their time.
Bill does many things behind the scenes for the La Harpe Community.
He faithfully lends and helps the Golden Rule Club put up tents for Summerfest and the Fred Gibb Car Show.
He's responsible for maintaining the American Flags that decorate Main Street, and he also supplies the community with the wonderful kettle corn for many community events.
Bill is very hard working and ready to lend a hand to anyone in the community who may be in need.
For these reasons and many more La Harpe honors Bill as the 2007 Grand Marshall to show their deep appreciation for his many years of service to the La Harpe community.
---