The Hancock-Henderson Quill, Inc.

---
Jordan Brueck Earns Eagle Scout Award
On November 18, Jordan P. Brueck, son of Gary and Debbie Brueck of Stronghurst earned the highest award in Boy Scouts, the Eagle Scout award. A host of friends and family attended his Eagle Court of Honor Ceremony.
It is not the first time Jordan has been recognized before a court of honor. Six times before he has stood there: first when he received his scout badge, then when he earned each rank leading up to Eagle. Jordan exemplifies the ideals of Scouting.
Jordan's trail to the Eagle Scout Award was a lengthy one which started in the second grade. In terms of badges, he has earned the Scout badge and the ranks of Tenderfoot, Second Class, First Class, Star, Life, and finally Eagle.
Along the way, he earned 12 required merit badges and nine elective merit badges, served in troop leadership positions for a total of 16 months, and spent at least 13 hours on service projects, not including the countless hours he spent at Camp Eastman helping to build a new nature center.
Countless more hours were spent on Jordan's Eagle Scout project which was to repair the American Legion/ Stronghurst Post Office. There had been many leaks over the years which have caused plaster to peal off the interior walls.
Jordan with the help of his project volunteers replaced flashing around the brick and tuck pointed the areas where the mortar had become loose. In all, he has completed approximately 325 different requirements.
Jordan's accomplishments far exceed the above mentioned requirements. At the age of 14 Jordan attended JLT which is a Junior Leading Training Camp.
He was then asked the next year to come down as staff. There he got the chance to teach others leadership skills.
He is a BSA certified Life Guard and has been certified by the Red Cross, he currently is a supervisor at Huck's Harbor Water Park.
He has served on Cub Scout Resident Camp Staff in the summers of 2003, 2004, 2005, and 2006. While on staff the first summer he taught Cub Scouts how to do a wide range of activities such as how to set up a tent, tie knots, observe nature, hike safely and handle a weapon appropriately on the rifle range.
He has spent two summers teaching Cub Scouts how to canoe and fish, and he spent one summer teaching Cub Scouts how to swim.
Outside of scouting, Jordan was nominated and attended Boys State this past summer at Eastern Illinois University. There he studied government policies and issues. Jordan played football at West Central High School and was named All Conference Academic Athlete.
He is a member of the Student Council, National Honor Society and attends St. Patrick's Catholic Church in Raritan where he is a regular Alter Server.
Jordan has played the Baritone for 7 years and has attended numerous honor bands, including St. Ambrose, Augustana and Monmouth College Honor Bands.
After graduation Jordan would like to attend Western Illinois University in Macomb where he plans on studying law enforcement and recreation, parks and tourism.
He hopes to combine the two areas of study and pursue a career with the Department of Natural Resources.
Master of Ceremonies was Donna Buss and Lloyd Hubbler, scout leaders.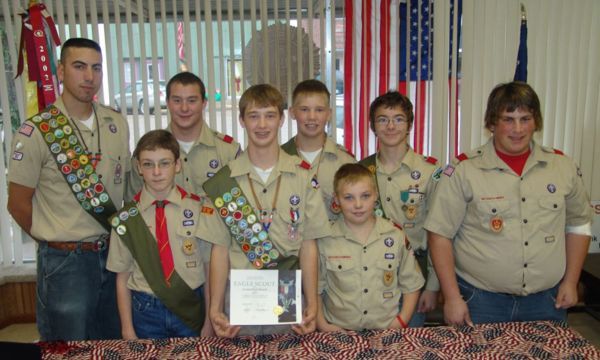 Fellow scouts stand with Jordan Brueck of Stronghurst after he received scoutings highest honor of Eagle Scout. From left back: Travis Hoffeditz, Brad Buss, Logan Brueck, Mark Siegrist. Left front: Garret Lefler, Jordan Brueck, Casey Forrester, and Wade O'Neil.
---