The Hancock-Henderson Quill, Inc.

---
Raritan State Bank Enjoys Opening of Second Banking Center in Bushnell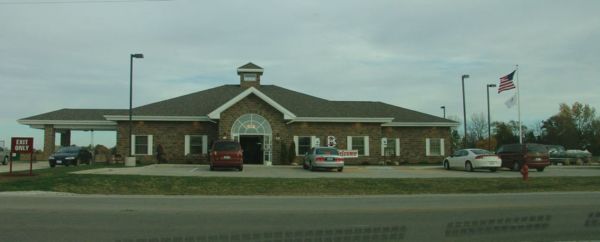 Robert Schleich, CEO of the Raritan State Bank (left) smiles after a successful Open House of their newly constructed Bushnell Banking Center was held Saturday. The facility is the bank's second banking center they have opened in the last few years. Earlier, a similar structure was built in Abingdon and has been operating successfully. At right is Mark Rodeffer, General Manager for the new Bushnell Banking Center. A large crowd attended the Open House, enjoyed refreshments, a tour of the facility, met new staff as well as the Raritan State Bank staff and board of directors.
Schleich said that Bushnell was in the center of a farming community and industry, a prime market for their banking center which the community can benefit from. The new center employees six full-time and 1 part time staff members.
"Our new Bushnell Banking Center added competition to the two already existing banks and we are proud to be a part of it." Schleich indicated that the Raritan State Bank would like to open more Banking Centers in the not so near future. "We want to grow slowly and solid," he said.
The beautiful building is topped with a cupelo where four paintings were hung, that had been commissioned by the Bank of a local artist, Tim English. Meaningful landmarks and historical places around the community were selected by the bank, English said. English has taught school in the Elementary grades for 25 years. Just the last four years he has exclusively taught Elementary Art. He and his wife Gayla have seven daughters and the oldest two helped a great deal with the paintings, he said. They are twins, Bethany and Georgia, and attend Jr. Olivet Nazarene University in the Kankakee area. One is an Art major and the other Interior Design. The bank officials told us what to look for and we did sketches, alterations and replaced a few things. "We were on a time line from May to July and we worked pretty steady," he said.
The four paintings are on canvas and framed and shaped to conform with the cupelo and remains lite after dark.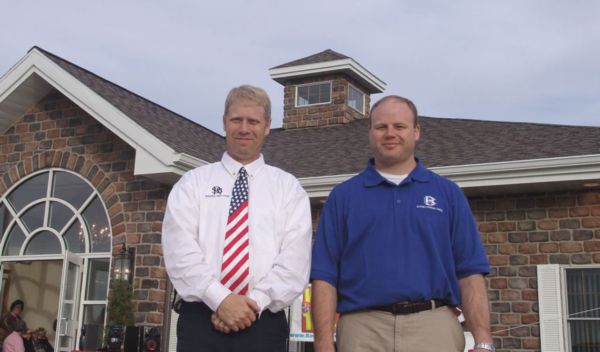 ---