The Hancock-Henderson Quill, Inc.

---
Final Graduation For LHS
by Dessa Rodeffer, Quill Publisher
Twenty-two of the twenty-three students of the Class of 2007 were present and in cheerful spirits, looking forward to future years beyond the doors of LHS during its last graduation exercise Sunday afternoon.
Superintendent Jo Campbell gave thank yous to those who have worked so hard to bring students to this final day of graduation for seniors and for La Harpe High School.
One student, James Tomow, who joined the United States Air Force, was unable to attend, and his brother, who was filming the event, came forward to receive his diploma.
Two other students have also chosen careers in the United States military: Kylen Carpenter (Navy), and Justin Zimmerman (Air Force).
The three men were recognized by a Veteran of the Viet Nam war, Michael Blythe, American Legion Post 301 Chaplain.
Blythe who has given out the American Legion for 25 years, said the American Legion has presented Awards for 28 years to La Harpe graduates.
Teachers make the selection of the top girl and boy who best model the American Legion's high standards for a good citizen: honor, courage, leadership, scholarship, and service.
Blythe presented the 2007 American Legion awards to Kirsten Johnson, daughter of Rex and Debbie Johnson, and to Tyler Sharpe, son of Ted and Terri Sharpe.
Good Citizenship Awards were also awarded by the DAR, Shadrach Bond Chapter represented by Mary Anne Kane.
The awards were presented to Hannah Brown, daughter of Gary and Denise Brown, and Blake Mealey, son of Mike and Diane Mealey. Mrs. Kane said that by paying attention to these qualities in students, we are building a better nation for our future.
Valedictorian was Claire McKee, who kept her speech short and sweet, and Co-Salutatorians Julie Anderson and Gretchen Blythe, gave their speeches together.
Prayers were offered by Lacey Pence and Genessa Cox.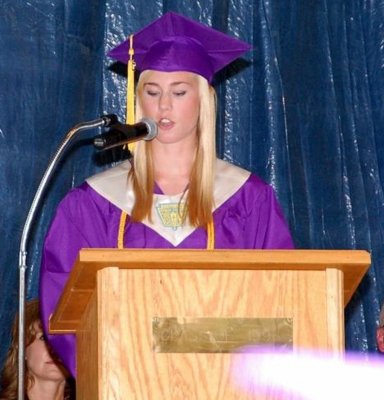 Claire McKee's valedictorian speech was short and sweet.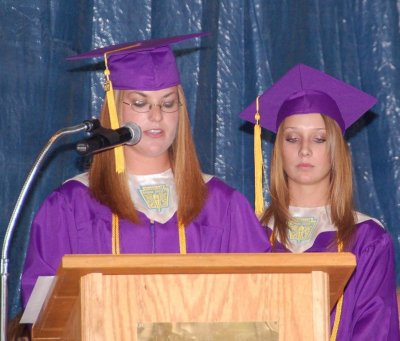 LHS Co-Salutatorians for the Class of 2007, Julie Anderson (left) and Gretchen Blythe, gave their speech together. (-photo by Joanna Sholl)
---