The Hancock-Henderson Quill, Inc.

---
Joan Siegworth Will Be Missed at La Harpe Elementary School
Joan's Retirement Open House is Sunday
by Dessa Rodeffer, Quill Publisher/Owner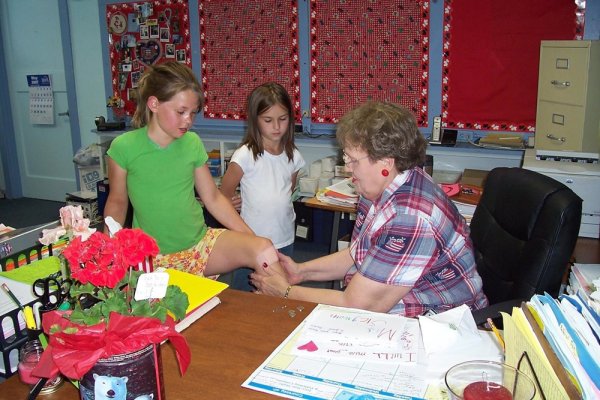 "There are not words to describe how much she'll be missed.....there's just no words!" said Joanna Wright, Teacher's Aide at La Harpe Elementary as she described the feelings of herself and the staff on Joan Siegworth's retirement. "There's not anything she doesn't do."
Up three flights of steps in the La Harpe School Principal's office, Joan Siegworth was found busy answering questions and assisting Principal Jo Campbell, working with a teacher, and was then interrupted by two girls one with a skinned knee.
Quickly she had it bandaged with antibiotic salve applied, as if she had done it a hundred times before, and, maybe she has.
Mrs. Siegworth has spent most of her life at the La Harpe school, but is looking forward to retiring this month after 43 years.
Prior to full-time employment, Joan had been the pianist for Kindergarten teacher, Mrs. Anna Berlett.
"Three days a week, she would put them around the piano to control them, and I would play for their music class," Joan explained.
It was two years later (1964) that Joan began working full-time at La Harpe Elementary in Terre Haute.
"I came to fill in for a week for Jane Kern as a teacher's aide, and I've been here ever since."
Jane was unable to come back due to health issues, so Joan took over her position as aide for 1st and 2nd grade during the next four years.
At that time La Harpe Community School District #335 was formed and Joan was asked if she would be the elementary secretary.
She has served as elementary secretary (sometimes Junior High) under eleven principals:
Steve Ingold, Don Hamilton, Jack James, Alan Driskell, Larry Crim, Jan Logan, Charles Apt, Michael Brown, Gary Eddington, Charlotte Davis, and currently Superintendent Jo Campbell who also served the last two years as Elementary Principal.
"I've been Superintendent for five years," said Mr. Campbell, "and Mrs. Siegworth has been my secretary for two years and she and her daily planner has pretty well taken care of things.
"She will have a list on my desk each day with a note that says, "this is what needs done today:" school pictures, notes to be sent home to parents, class play, term grades, class trips, school parties, dental exams, Grandparents Day, and she'll have all the notes ready to go out to the parents. Thank God for Joan!" he said.
"It's not uncommon to find that most schools are run by the secretary. The Superintendent just takes credit," Mr. Campbell said.
"I'm going to miss her lemon pies and other specialties she makes," but that's not the only thing. I'll miss her. She's a tremendous person. She's genuine in everything she does."
Joan said pranks have been played on her like like the time Tony Newton rigged up a rat trap on the back of her chair hooked to a towel and when she sat in it, the towel let go and snapped her.
"They knew I was deathly afraid of mice!"
But she has played her share of pranks, like the time she filled a lemon pie with cotton balls and covered it with cool whip for Alan Driskell and Harry Bradley. "We've had fun," she said.
High School Principal Mrs. Lila McKeown said she remembers as a student at Terre Haute Jr. High when she was to bring pizza and grapes for a class where they were studying about Italy.
"My dad brought a frozen pizza instead of a baked one. He didn't know. But, I was so upset, and Joan saved the day by baking the pizza for me. I appreciated it so much. She just does things like that and goes the extra mile," Lila said.
Probably one of the least things Joan has liked doing is getting substitutes for teachers, a job she accquired the last few years.
"I am not going to miss getting the subs," Joan said.
Each morning, Joan gets up by 5:30 a.m. and at 6:30 calls into the school's answering machine to find out what teachers are going to be absent that day. Then she begins calling the list of substitutes so they will have time to arrive at school on time. The most people she has ever had to call in a morning is 13.
Another job Joan has had is to call every parent who's child is not at school if they have not called to report them absent.
Joan's duties have also included morning attendance, taking care of cafeteria money (which she enjoyed with Cerece Hasten who was Junior High Secretary), a lot of paper work, typing, duplicating.
She also takes care of minor aches and pains.
"We can no longer give medications, but we can give ice paks, band-aides, and lately we've had so many ticks. If it is very bad, we send them to the Clinic."
Joan went to Kindergarten in the La Harpe Clubhouse, but attended all twelve grades in the building she has been working in beginning at age six.
She is the daughter of Harden and Phyllis Bell of La Harpe. She married John Siegworth in 1953 and they have three children: Cindy (Bob) Bruns, teacher in Flora with four children; Greg Siegworth (Rita) farms in La Harpe (two children); Lori Smith (Jim), Lake Summerset, Davis, IL (three children).
Joan didn't work until after her children were in school but once she started has worked under 10 superintendents and 11 principals.
"They are all different, but we were always like family-teachers and staff," Joan said.
District Secretary Pat Deitrich, agrees.
"Joan's a good friend. She's always so cooperative, so dependable, ready to go the extra mile. She's taken work home, worked overtime, and always does everything with a smile. She has a wonderful attitude. I will definitely miss her."
Joan has worked with several generations of children and has experienced generations of changes. The biggest change is computers.
"They have made the work easier and eased communication with networking, and email. I relay a lot of messages.
"I was also glad to see the improvements in copiers. Our old duplicator I had to crank and purple ink would get all over my clothes."
"The intercom is a big improvement," she said. "We have 15 rooms and three stories which gives us a lot of exercise. The intercom is nice."
Joan's last day of school is today, Wednesday when kids get their report cards. Yesterday, the teachers presented her with a memory book that includes all the principals and superintendents that have served and notes from all the teachers.
"We've had a lot of good kids over the years," Joan said. "But today, some lack respect for authority, and I feel parent support has gone down hill. It use to be when the kid got in trouble in school, they were in trouble at home, too.
"Not as many parents attend parent-teacher conferences. This is important for it is where they can find out what the child's struggles and accomplishments are and they can give them help if needed and give them words of praise
Joan's last day at work is Friday, June 8th. Then, she planning on getting busy on a list of projects of her own that she's been putting off, like cleaning the attic.
But there will be a celebration before she retires. The community is invited to her retirement-open house at the Masonic Lodge, this Sunday, June 3rd from 2:00 to 4:30 p.m. where cake and punch will be served celebrating all she has meant to the La Harpe School District. All who know her are invited.
Superintendents who have served La Harpe Schools while Mrs. Siegworth has been secretary are:
Roy Baker, Ed Seymour, John Aurand, Arnold Marshall, Felix Murrell, Larry Crim, Ron Blakely, Steve Breckon, Jerry Arthur and Jo Campbell.
---