The Hancock-Henderson Quill, Inc.

---
Community Spotlight-Square Dancing Fun
-by Holly Willdrick, Quill Staff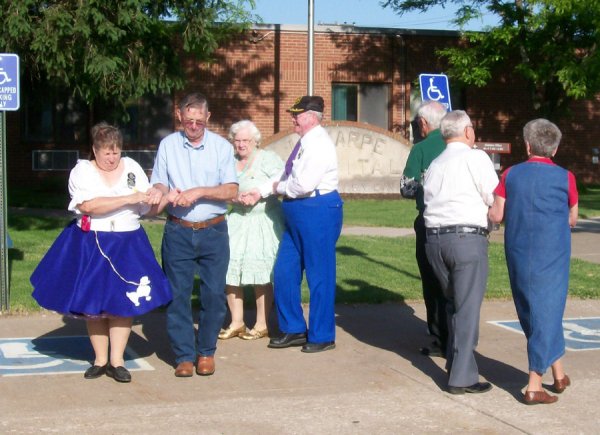 The La Harpe Davier Health Care Center hosted a Boot Scootin Square Dancin Block Party on May 18th.
There was live entertainment by a square dancing team with caller Tom Manning of Weaver, IA.
They also had a bake sale with all of the items being donated from members of the community as well as pop and hotdogs for $1.00 and popcorn for $.25. The pop for the evenings event was donated by Pepsi and Coca Cola of Macomb and R&D Foods and Ayerco of La Harpe.
All of the hotdogs were donated by Neimann's and Hy-Vee of Macomb and the buns were donated from R&D Foods of La Harpe.
There was a great turn out of residents, staff, and community members. They even blocked of the street so they would have more room to boogie. The evening events brought in close to $400.00 and will be donated to the St. Jude's Children's Hospital.
The La Harpe Davier Health Care Center is looking forward to having many more fundraisers in the future and hopes that the community will continue to come support them and join in on the fun.
---