The Hancock-Henderson Quill, Inc.

---
Community Spotlight-Recognizes Leader
-by Dessa Rodeffer, Quill Publisher/Owner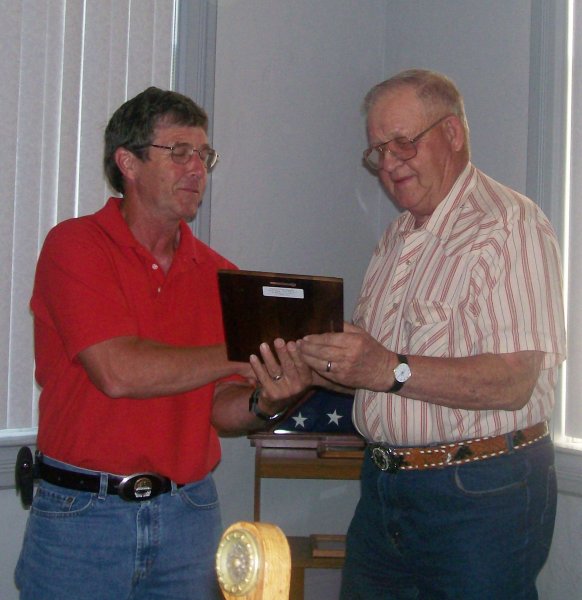 Dean Moore Honored For His Contributions To La Harpe
Dean Moore, who lives east of La Harpe, has been a farmer for most of his life, but that is only a small part of who Dean is to the community of La Harpe.
Although, he and his wife Carolyn along with his friends, Bob and Alice Mapes, served the community by running a hardware store for several years, and he has served in many service clubs such as the La Harpe Lions Club, the Golden Rule Club, the American Legion, and the Masonic Lodge, Dean is most recognized for yet another role. That is his 25 years as a leader and volunteer in the La Harpe Ambulance Service.
This past Monday evening at the La Harpe City Council meeting, a packed crowd gathered inside the upstairs room of City Hall to witness Mayor Ken Brown and city trustees honor this man who has given so much of his time and energy to serve the community.
Mayor Brown, a retired EMT who served on the La Harpe's ambulance himself, recognized Moore for his exceptional gift of leadership and 25 years of service to the La Harpe Community.
In 1982, Dean, without hesitation, said "yes" to the call for help in serving on the La Harpe Ambulance Service.
"Kenny needed some help," Dean said, "and my son Mike, an EMT, came home and asked me if I would join the service as a driver for the ambulance."
Dean joined and the following year was elected as its President, and he has been re-elected to that role every since.
Dean's interest as an emergency responder stems back from his service in the United States Army in 1952, '53, and '54.
"I was trained as a paratrooper in the Army's 82nd Airborne," Moore said. "It was during the Korean War.
"I had just finished up military police school including training as an EMT at Ft. Bragg. A week later we had one of the worst emergencies and I was sent to it.
Dean said that an airplane at neighboring Pope Air Force base had taken off and swerved around crashing into the barracks and mess hall, killing 13 people. Some were in the plane, others on the ground working K.P. duty," he said. It was awful. I had tp help pick up their bodies and put them in bags."
Dean said, the accident could have been worse, for just minutes earlier, the mess hall had been full.
"I was twenty-one and being trained to go to Korean, but the Korean War ended, then I came home."
Moore said he had a yearning to join the state police and to serve in the emergency field in some way, but he decided to go into farming.
Serving on the village ambulance department, seemed like something Dean was destined to do. He admits, there are a lot of hours that go into serving, but he says that every accident or emergency he has been called to, reaffirms that it is worth all the time that he gives.
"When an elderly person grabs your hand and looks you in the eye with that look that says "what would I have done if you hadn't been there,' it gives you a feeling that you are doing something so worthwhile. It's a satisfaction you can't get anywhere else."
At the time Dean joined the ambulance committee, there wasn't a building," he said. "I suggested that we build one, but the kids said that we couldn't afford it.
Moore assured them they could, and went to the bank to borrow the money.
"They asked me how we were going to make payments for it, and I told them, "fund-raisers."
The bankers were a little concerned on how they were going to put "donations and fund raisers" on paper, but Moore said that is exactly how they paid off the bank.
"We built a building that housed two ambulances plus had a nice classroom, and we paid for it all with donations, suppers, and golf tournaments. We paid for it all."
Moore said that was also how they later paid for an ambulance, with a lot of hard work hosting fund raisers and from people's generous donations.
Moore said the La Harpe community has just been so supportive, and a great place to live.
Mayor Ken Brown and trustee Brian Lovell were two of the original group who began the first EMT classes. Mayor Brown recalled how the service had only needed three volunteers per run on a call. There were no schooling or qualification requirements, but soon EMTs were required to have basic life schooling.
Dean Moore, a lifelong resident of rural La Harpe, said he really enjoys doing whatever he can to support the ambulance service in the community. He tries to provide a class every year for EMTs who are now required by law to have 120 hours of classroom training plus two hours over the next two years to maintain their EMT license.
"We have a meeting once a month and sometimes training with someone such as a doctor. We try to help EMTs as much as possible."
Dean said they had over 25 people on the service when he started - drivers and EMTS-but people have moved away and the "numbers are whittling down," he said. "Statewide, they are down," he added.
Moore explained that the state got rough on their exams a few years ago and a lot didn't pass it.
"They have three times to pass it but some of them wouldn't take it the third time," Dean said. At one time 85% of those taking the test in the state were not passing."
Now, Moore says they have a new test and he has organized another course that began in February with instructor Vickie Gallagher, an Emergency Helicopter Paramedic. The class of five is expected to take their test in June.
At that time Moore hopes to see an increase in their 13 EMTs to 18.
Moore said the ambulance service pays for their test and for instructors by having suppers and donations.
It is a volunteer service, but those going on runs are paid $10 an hour, since so many hours are taken out of their day and away from their work to transport people as well as handle emergencies.
"Transfers can take from 8 a.m. to 5 p.m.," he said.
Dean said that the drivers now have to take CPR.
"I also require them to know where all the supplies and parts of the ambulance are so they can assist EMTs when they need help."
"We have lots of drivers who do take EMT classes, too," Dean said.
The service also uses "First Responders" from the fire department. Dean said, "We sign waivers and send them to the state for approval when we are short of EMTS. First responders can assist and do almost what EMTs can do," he said.
"Running an ambulance service can be overwhelming," Dean said. "It is hard when you are called to a fatality or car wreck of young people you know, or a heart attack and it is too late and you can't do anything to help."
"He said he couldn't do it all without the support of his wife, Carolyn."
"We are on call for 12 hour shifts, 5 to 5 and I require everyone on call to be within 5 minutes of the ambulance so we can quickly respond.
"People usually call me," Dean said, "but we have such a good group of volunteers. They will usually switch off if someone needs to do something."
"We average around 150 calls a year, some weeks there are no calls, but lately we've had several, even two in one day. You just never know and you always have to be ready."
Moore retired from farming 4 years ago and still leads the ambulance department as its President.
Mayor Brown and the city council yearly recognizes someone in their area who has made an outstanding difference in La Harpe and has helped the community be a better place. Brown said the trustees were proud to give recognition to Dean Moore who has given so many hours of service to others.
Moore was given a plaque at Monday's Council meeting in recognition for his 25 years of outstanding service on the ambulance.
---