The Hancock-Henderson Quill, Inc.

---
Aaron's In Iraq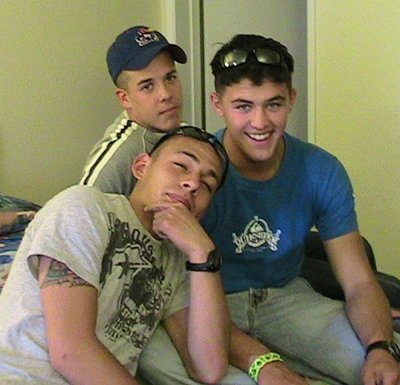 Before Aaron Landers of Biggsville, flew out of California for Iraq, his mom Debbie, was able to travel to California and witness his deployment and say good-bye.
"The hardest thing I think I've ever had to do was to say good bye to him and his buddies."
Since then, she said, Aaron has arrived in Iraq and reported to her that it was very hot there, but he was doing well.
"He is enjoying chow time," she laughs, "and eating three times a day. He is one of the lucky ones who don't have to eat them mre's."
"They split up his platoon, she said, and we were waiting to make sure of his address," Deb writes.
Aaron's address is:
LCPL LANDERS, AARON T.
WPNS CO. (CAAT BLACK)
UNIT 41575
FPO AO 62426-1595
Debbie also enclosed some pictures including one picture right before they were leaving for Iraq where they took The Quill Along in Twenty Nine Palms, California.
Another of she at the ocean with Aaron and
Again, like all the soldiers and their families, they appreciate the support everyone gives and has shown.
Aaron, 19, is a 2006 West Central graduate serving in the U.S. Marine Corp and was deployed to Iraq on April 28th .
---