The Hancock-Henderson Quill, Inc.

---
Fatality On Highway 34's Overloaded 2-Lane
Collision leaves woman dead
(Used With Permission from The Hawk Eye)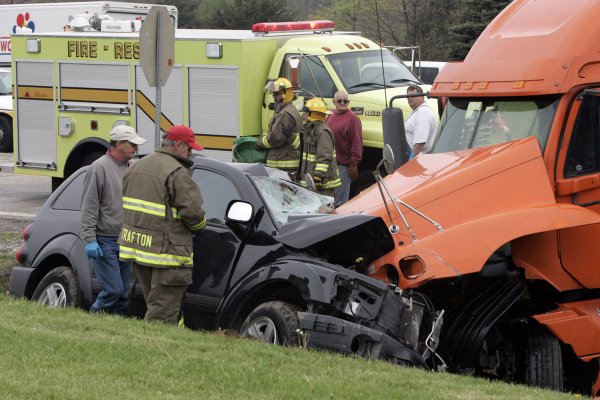 Biggsville - A Moulton, Iowa woman was killed in a four-vehicle car crash at 12:50 p.m. Friday at the intersection of U.S. 34 and Illinois 94, west of Biggsville, May 4.
Melissa A. Salcedo-Munoz, 35, was pronounced dead at the scene.
According to Sgt. Mike Inman of the Illinois State Patrol, a tractor-trailer traveling west on U.S. 34 crossed the center line and collided head-on with Salcedo-Munoz's 2006 Dodge Durango.
The tractor-trailer driver, Anwar D. Zayed, 49, of Ocala, Fla., had swerved to avoid two vehicles that were waiting to turn onto Illinois 94.
Charles R. Campbell, 28, of Monmouth, and James E. Walters, 18, of Carman, were in those two vehicles.
Campbell received minor injuries in the accident and his 1998 Dodge pickup received major damage. He was taken to Monmouth Community Medical Center. Walters was not injured but his 1998 Ford pickup received minor damage.
Zayed received moderate injuries in the crash and was taken to Great River-Medical Center by ambulance.
He was later cited for failure to reduce speed to avoid an accident.
Illinois State police were assisted by Henderson County Sheriff's office, Gladstone-Gulfport and Media-Stronghurst Fire-Rescue, and Henderson County Coroner Kris Beals.
---