The Hancock-Henderson Quill, Inc.

---
Mohr's Veterinary Clinic
By Jennifer Sparrow-Special for the Quill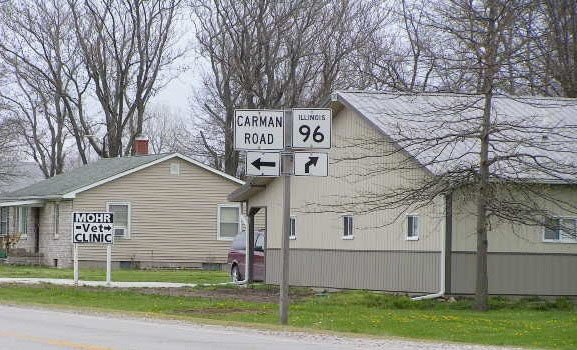 There has been a lot of extra tail wagging going on in Lomax lately. (Well, inside Mohr Veterinary Clinic, anyway.)
Lomax is now home to the new office building of Mohr Veterinary Clinic. Mohr Veterinary Clinic is located east of The Pink on Hwy 96. Mohr Veterinary Clinic was officially established by Dr. Lewis L. Mohr in 1966.
Dr. Mohr graduated from the University of Illinois in 1962 and was a Captain in the US Army for four years. He then started his veterinary practice out of his home in rural Dallas City.
He operated out of his home for 40 years performing mostly small animal vaccinations, spays and neuters, as well as providing large animal services.
In 2002, Dr. Lewis Mohr's, youngest daughter, Kayla, graduated from the University of Illinois and came home to practice.
Dr. Lewis Mohr took unofficial retirement and Dr. Kayla Mohr purchased the practice from him, expanded the equine outreach, and continued to provide large animal services.
In 2003 Dr. Kayla Mohr married Rodney Crum. Dr. Crum chose to retain the clinic name of Mohr Veterinary Clinic. She wanted to expand the veterinary services and put into practice what she learned in school. The clinic was cramped in the one fourth of the house and lacked the space to expand.
In early 2006 tentative plans began to build a new building.
The doctors and staff relocated into their new building in November 2006.
Along with the move came several changes. The clinic expanded it's hours and is now open from 8:00 a.m. to 5:00 p.m. weekdays and from 8:00 a.m. to noon on Saturdays.
X-ray, dental and new surgical equipment were installed. Kennels were installed to accommodate both surgeries and limited boarding.
New staff was also hired to accommodate the additional hours.
Mohr Veterinary Clinic employs 5 people in additional to Dr. Lewis Mohr and Dr. Kayla Crum. (Dr. Lewis Mohr continues to do small animal surgeries.)
Victoria Mohr, Dr. Lewis Mohr's oldest daughter, is the practice manager. Amanda Mohr (daughter-in-law of Dr. Lewis Mohr) is the morning secretary.
Tammy Storch is the afternoon secretary. Laurie Wardlow is a full time tech and Rachel Knisely is a part time tech.
Annie Ryan of Dallas City is a special helper for the veterinary clinic.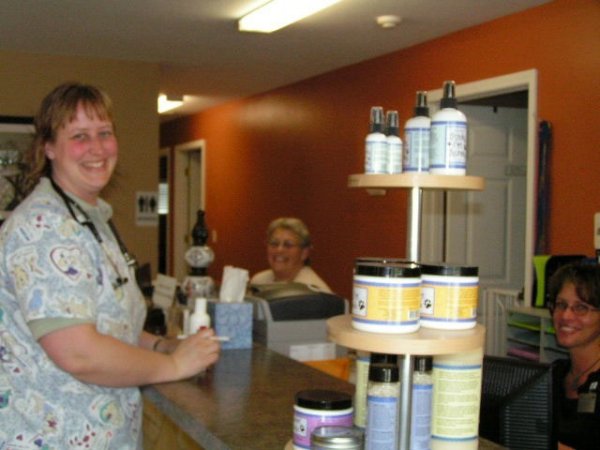 Pictured are Dr. Kayla Crum ( in front), Victoria Mohr (in back) , and Tammy Storch.
---