The Hancock-Henderson Quill, Inc.

---
Meet Your Neighbor
by Susan Galbraith, The Quill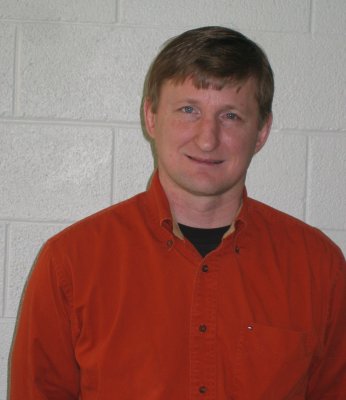 Meet your neighbor Mark Baker, Pastor of Faith Bible Church in Oquawka.
The most significant thing he does is to teach the Bible, live out the principles of scripture and be a servant of God's people. His job is to see people serve and ask them what he can do to help them succeed.
His favorite verse in scripture is Mark 10:45, "For even the Son of Man did not come to be served, but to serve, and to give his life as a ransom for many".
Pastor Baker was born and raised in Dayton, Ohio.
He graduated in 1980 from high school in Dayton, received his B.S. in 1984 from Miami Ohio University and received his Master of Theology from Dallas Theological Seminary in 1995.
He and his wife, Loreena, have been married 18 years. She is a certified teacher and substitutes at West Central. But her primary job is staying home and taking care of their two sons, Joshua (12) and Caleb (10) who both attends West Central.
His parents are Ron and Judy Baker who reside in Dayton, Ohio.
Pastor Baker has one sister, Susan (husband Bob) Chambers and their three daughters, Emily, Sara and Megan.
He enjoys his family, pastoring, basketball, biking, and playing spider solitaire on the computer.
His family is looking forward to vacationing in Washington, DC this summer and visiting his sister in Philadelphia.
While vacationing this summer he plans for the family to go white water rafting in the Pocono's.
Each summer, for one week, Pastor Baker and his family enjoy tent camping in Delabar State Park.
Before going to seminary he taught 8th grade for 7 years which is the age group he loves to work with.
Faith Bible Church offers many activities for the whole family including Awana, an international Bible study for youth.
On Wednesday nights the church averages 70 kids K-6th grade for Awana and approximately 16 kids in youth group ranging in grades from 7-12.
They offer Vacation Bible School as a summer program.
Other activities are the Resurrection Egg Hunt, at Easter with 105 children participating.
The church also prepares for a fall children's carnival.
They have three women's Bible studies; one on Monday night, one on Tuesday morning and one in the afternoon; their men's group meets on Saturday mornings at two locations, the Little York Dew Cafˇ and the Village Hub in Oquawka.
All men of the community are invited to participate in that fellowship.
Pastor Baker's dream is to open a youth center at the church on weekends for youth activities.
At Faith Bible Church families are their priority.
Their church motto is "We Care Because God Cares".
---