The Hancock-Henderson Quill, Inc.

---
Rick Kern, Former Ag Producer,
To Be Honored At 2007 NC Polled Hereford Sale
(Editor's Note: The following appears in the 2007 NC Polled Hereford Sale magazine honoring Rick Kern, formerly of Terre Haute-La Harpe area. Rick will be honored at a banquet in North Carolina on March 24th:)
"The 2007 NC Polled Hereford Sale is dedicated to Rick Kern of Raleigh, North Carolina. Rick comes from a long heritage of Polled Hereford cattle. As youngsters, Glen and Gale Kern of La Harpe.
"Rick's father and uncle, raised Shorthorn cattle with their dad. When they ventured to start their own farm in 1949, they purchased a Hereford son of WHR Resoulte 55.
"They switched to Polled Herefords in 1952 with the purchase of HHR VIC Woodrow. Rick's father Glen spent a lifetime in the Polled Hereford business and was a board member of the Illinois State Polled Hereford association and past President of the Western Illinois Hereford Association.
"His great uncle, Ralph Painter, is a member of the Polled Hereford Hall of Fame. Kern Farms is still raising and showing Polled Herefords today but have moved their operation to Arkansas.
"Rick is the youngest of six boys born to the Kern family between 1946 and 1957. All the boys played an active role with Kern Farms, having to answer to both their dad and Uncle Gale. Several of the boys showed cattle but none were as dedicated as Ricky.
"Born March 24, 1957, Ricky started showing cattle at a young age. It was very obvious to everyone that there were only two things on his mind, cattle and sports.
"Rick was active in FFA, a member of several judging teams and a participant in every sport offered at La Harpe High School. He was also an assistant to the local vet.
"He really caught show fever in 1974-1975 when he won the Illinois State Fair with a Hereford steer. He continued winning with his Hereford heifers and steers at many local county fairs. This was a major accomplishment in Illinois when livestock shows were very big.
"After graduating from high school in 1975, Rick went on to attend the University of Illinois. During his college days, he was a member of the 1977 Meats Team, the1978 Livestock Judging Team and the 1979 Meat Animal Evaluation Team, and he was high individual in the Market Animal Division at the 1979 National Meat Animal Evaluation Contest in Omaha, NE. While in college, he even won the bareback riding event with 62 points when the University of Illinois staged a rodeo in 1977. He also rode a 1200-pound bull just long enough for a photographer to snap his photograph!
"After college, Rick married Linda, becoming a step-dad to 7-year old daughter, Monica (1980) and took his family back to the farm in Illinois.
"After the birth of his first daughter, Pamela (1981) he was offered a job to manage, Whip-O-Will Farms of Mocksville, North Carolina. 1983 was a busy year for Rick. Not only was he planning
"The New Beginnings Sale" at W-O-W, but he also became a daddy again when Kristina was born. Yep, all girls! But don't you think in the back of his mind he was thinking: "Alright! Girls to show!" From there Whip-O-Will produced champions like WOW Monica 60R 774T, and a percentage interest in bulls like Rounder, Jedi, Prophet, Hurrah and Trustee.
"Whip-O-Will was host to numerous sales and field days. During this time he also placed bulls at the NC BCIP Bull Test and became acquainted with many people from the Animal Science Department at NCSU.
"These acquaintances would later become important as a career change was near. Between Whip-O-Will and NCSU (1991), Rick, Linda, Pamela & Kristina Kern became 4K Ranch.
"For the past 16 years, Rick has been Manager of the Beef Educational Unit at NC State University, which consist of both Polled Hereford and Angus cattle. He teaches beef management labs to many students and raises efficient bulls and heifers for purebred and commercial breeders.
"You can usually find NCSU bulls at the BCIP Bull Sales and they have had top selling bull several times. Pamela and Kristina showed cattle for their dad for many years and in 2003, the next generation of Polled Hereford showmen was born to Pamela & Scott, Hailee Jane. In 2004, they brought us little Lillee. Yep, more girls!
"This past year, Hailee only 3, showed a lamb at the NC State Fair. However, she wanted to know when she was going to show her baby Hereford calf. Hailee always makes sure to wear her work boots so she can help Papa feed cows.
"You all know Rick and all the people he has helped out over the past 23 years. He is a past Vice-President, President and Director for the NC Polled Hereford Association and Secretary for the Purebred Breeders Council of the NC Cattlemen's Association. He has volunteered to work with the youth of numerous 4-H and FFA programs and is a regular contributor at numerous purebred cattle functions across NC.
"Happy 50th Birthday Rick and Congratulations on being chosen to have the 2007 NC Polled Hereford Sale dedicated to you!"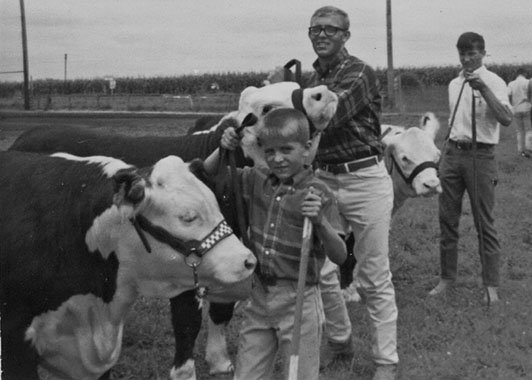 Ricky, 9 or 10 years old, showing at the Henderson County Fair (Illinois)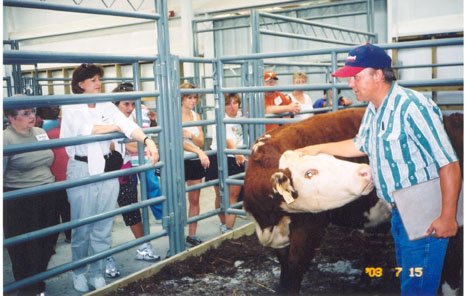 Rick teaching in 2003 at the NC Cattlemen's Conference.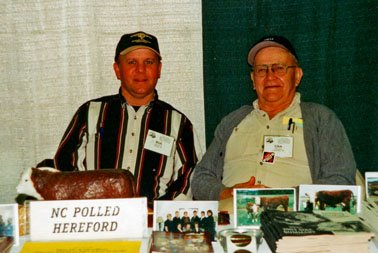 Like Father-Like Son, Rick with his teacher and dad, Glen Kern at the NC Cattlemen's Conference.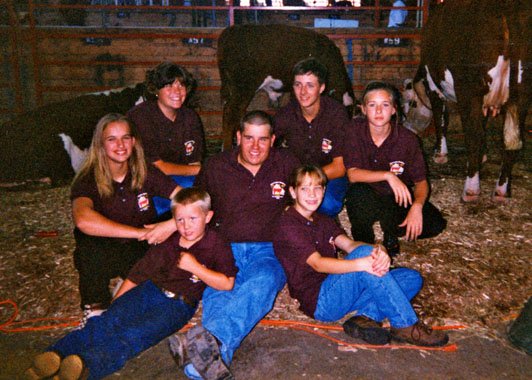 The NC Jr Polled Hereford group that went to the nationals in Iowa in 1996. Rick and Linda attended as Jr Leaders. Their daughters Pamela and Kristina are in the picture. Pamela (1981) is the blond on the left, their oldest daughter. Kristina Kern (1983) is their youngest daughter, the serious one pictured on the right side to the back. The rest are kids of friends of theirs.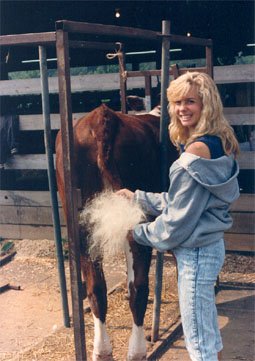 Rick's stepdaughter Monica Kern showed cattle when she still was living with them at home. Here she is at 14.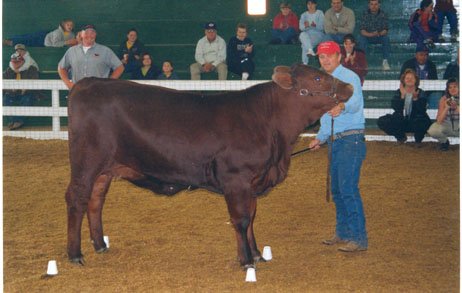 Rick's Still Got It!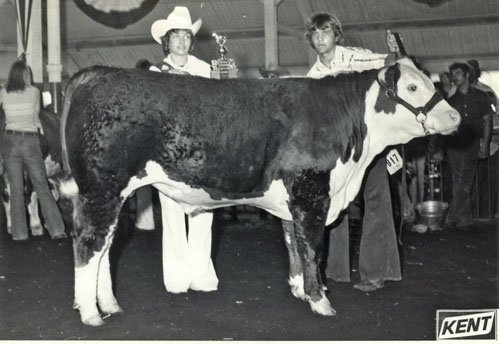 Rick with Champion Steer at the Illinois State Fair 1975.
---