The Hancock-Henderson Quill, Inc.

---
Planning for West Central's Future
by Phil Geiser, West Central Educator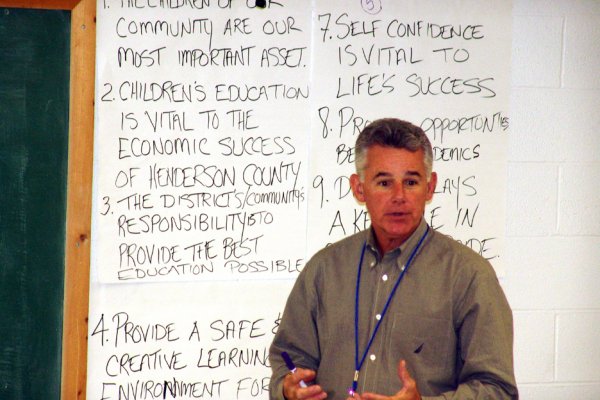 "Providing Opportunity, Expecting Excellence"... Those words will become the mission statement of West Central District #235 if the school board approves.
Thirty-some stakeholders in the school district, including school staff and a broad spectrum of community members, spent a day and a half last Friday and Saturday putting into writing the educational beliefs of the district in its second year of existence.
Under the leadership of Dr. Jim Burgett, the attendees discussed and agreed upon a mission statement, and discussed and refined a series of fifteen foundational beliefs about what quality education and an excellent school system should be.
Burgett is an educator who has been recognized nationally for his ability to lead, motivate, inspire, and teach. Jim has received dozens of awards for his teaching, his ability as an administrator, and his service to many professional organizations. He was twice named the administrator of the year in Illinois.
He travels across the United States sharing his skills with thousands of educators. No matter where he presents or speaks, the audience is left with hands-on ways to immediately improve what they do.
He is an expert facilitator in the goal-setting and planning process for schools and businesses.
Under his direction, the overall committee listed fifteen beliefs that included statements about the unique value and importance of every child, partnerships between the school and the home, and ethical behavior in all aspects of school life.
Other beliefs urged mutual respect for all, identified quality education as significant to the economic success of Henderson County, stated that programs should be relevant and progressive, and expressed the desire that West Central become a lighthouse of excellence and high expectations.
School board president Lonnie Brent began the workshop by noting that the immediate, short-range needs of the district have been met, and now it is important to look at mid-range and longer-range direction for the district.
That process took the participants a day and a half as small groups examined fundamental beliefs, statements that expressed the primary purpose of District #235, what issues are strengths and challenges, and what priorities they would direct the school board to focus on in the 1-3 years.
In future school board meetings, members will receive the written results of the strategic planning retreat, decide which (if any) parts to adopt, officially approve or reject the mission statement, and if passed, commit District #235 to "providing opportunity, expecting excellence" in all aspects of its decision making.
The seminar was held at Grace Bible Church in Oquawka.
---