The Hancock-Henderson Quill, Inc.

---
Stockholders 87th Raritan State Bank Meeting
The 87th annual meeting of the Raritan State Bancorp, Inc. was held at 12:30 p.m. on Saturday, March 10, 2007 at the St. Patrick Community Center near Raritan.
195 stockholders and guests were served dinner by the members of St. Patrick Church.
After the delicious meal, Arthur F. Kane, President, welcomed the stockholders and guests and introduced all employees and new stockholders of the bank.
Arthur F. Kane, President, presided over the meeting with Joe McCleary acting as secretary. Janise Casteel, Susan Haney, and Wayne Corzatt served as judges.
Angela Pollock, C.F.O./Cashier reported on the condition of the bank at the close of business on December 31, 2006, and Arthur F. Kane spoke on the earnings of the bank for 2006. A total asset of $98,244,216.09 for the year 2006 was reported to the stockholders.
Robert B. Schleich, Chief Executive Officer, welcomed the stockholders and commented on the large turnout for this year's meeting.
Robert welcomed Jeff Wilson as a new loan officer at the Raritan facility.
He then introduced Mark Rodeffer who will serve as bank manager for the Bushnell Banking Center that is under construction at the south end of Bushnell. We hope to invite everyone to an open house this summer after the new branch is opened.
Jan VanArsdale, Chairman of the Board of Directors, thanked the crowd for attending. He discussed the fact that our locally owned bank is owned by a large number of stockholders. He spoke of appreciation for the support of these stockholders over all the years.
Joe McCleary, after reading last years minutes, was in charge of a drawing with over twenty winners of gifts and flowers.
Mr. Ray Cavanaugh was in charge of the business meeting and directors election.
Directors elected for a three year term were Arthur F. Kane, Michael L. Neff, and William J. Simonson. They serve on the bank board with Mark Erickson, Joseph Krupps, Jan VanArsdale, and Steve Wisslead.
Raritan State Bank Organizational Meeting For 2007
The Board of Directors met Thursday, March 22, 2007, and organized for the new year.
Election of officers and appointment of staff positions was held with the following results:
Raritan State Bank
Jan VanArsdale, Chairman of the Board
Robert B. Schleich, Chief Executive Officer
Arthur F. Kane, President
Angela Pollock, Chief Financial Officer
Marc C. Coursey, Sr. Lending Officer
Joe McCleary, Assistant Cashier
Joyce Monroe, HRC/Operations Assistant
Christine Argenbright, Sr. Administrative Assistant
Diana Lange, Loan Secretary
Kim Kane, David Brint and Jeff Wilson, Loan Officers
Andrea Barber, Data Processing Supervisor
Carlyn Anders, Donna Painter, and Tami Heller, Data Processors
Theresa Fox, Linda Gearhart, and Nancy Rankin, CSR's
Abingdon Banking Center:
Doug Meadows, Bank Manager
Paula Randall, Administrative Assistant
Karen Johnson and Mark Simpson, Loan Officers
Jennifer Repp, CSR Supervisor
Christel Lambasio and Cathy Ruhl, CSR's
Bushnell Banking Center
Mark Rodeffer, Bank Manager.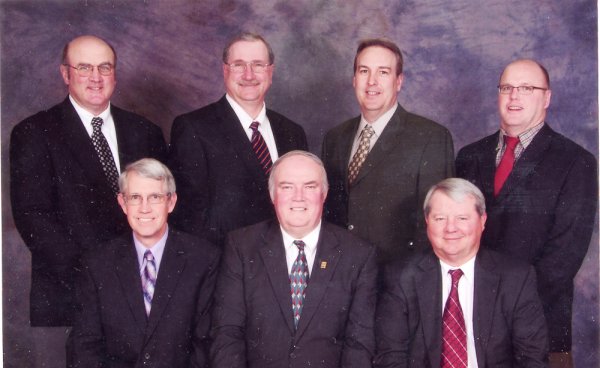 Raritan State Bank Directors:
front left-Jan Van Arsdale, Arthur F. Kane, Michael L. Neff; from back left: Joseph Krupps, Steve Wisslead, William J. Simonson, and Mark H. Erickson
---