The Hancock-Henderson Quill, Inc.

---
Security Savings Bank, Kicks off 125th Anniversary Celebration; Unveils New Logo
March marks the kickoff of Security Savings Bank's 125th anniversary celebration.
Many banks would proudly display their first bank building, but Security Savings Bank's predecessor, Monmouth Homestead and Loan Association began in the desk drawer in the law firm of Lyman W. Case, the first secretary.
A group of local citizens submitted a petition to the authorities of the State of Illinois to establish the association, and this petition was approved in May, 1882.
From the desk drawer of Lyman Case the association moved to two buildings in the southwest corner of the public square, to a building in the southeast area of the public square, to temporary headquarters on North Main Street after its building on the public square was destroyed by fire and to its present location at 220 East Broadway.
The Monmouth Homestead and Loan Association became the Monmouth Savings and Loan Association in 1958, and in 1974, it became Security Savings and Loan Association as a result of a merger with Stronghurst Building and Loan Association.
In 1994, due to a charter change to an Illinois state savings bank charter, the name became Security Savings Bank.
At the official kickoff Wednesday, March 14, Stan Jenks, President and CEO gave some additional history.
"Security Savings Bank has always been a part of the mutual form of ownership. The mutual form of ownership is almost as old as the nation itself. The first mutuals were formed and founded to provide banking services and credit access for ordinary citizens who sometimes found it difficult to get banking services," Jenks said.
"Mutual banks' founding purpose was to encourage thrift among low-and middle-income persons, and while remaining true to this original purpose, mutual banks are serving the needs of people and businesses of all income levels."
Security Savings Bank is a $137 million full service financial institution offering personal, business, and agri-business customers products in checking, savings, loans, internet banking, telephone banking, ATMs, and bookkeeping and tax preparation services through its subsidiary for Lovdahl & Shimmin."
"To prepare for the 125th anniversary, we had a new logo designed for the bank. This logo speaks to the past as well as the future of this bank. The mark of the new logo displays two curving "s" figures. They stand for Security Savings, and they also stand for a winding road. The "winding road of life" has many needs for financial products and services.
"Security Savings Bank has worked to meet the needs of its customers at each turn and stretch of their lives. Our tag line, "Part of our community, part of your life,' has been our commitment in the past and for the future. To be a part of the supportive communities and a part of our customers' lives is a real honor for Security Savings Bank."
"We asked WS, Inc. of Monmouth, dba Western Stoneware & Pottery Store to make a commemorative bowl for our celebration."
The commemorative bowl is a limited edition of 150 bowls and we will use these during the year of celebration. We will have some fun during the year in offering special savings and loan products.
A Customer Appreciation event will be held on Sunday, June 3rd, at Monmouth Park featuring the RiverCity Banjos of Central Illinois."
"We are proud to be celebrating such a milestone in today's environment of bank mergers and acquisitions. Security Savings Bank has operated with open doors through wars, depression and recessions, during the terms of 23 of the United State's 43 Presidents, and at a time where the number of banking organizations in 1984 was at an all time high of 14,884 to a level of less than 7,600 banks at the end of 2005.
As we celebrate 125 years, we reflect on the importance of each of those years...and, in fact, we realize the importance of each day that we help a customer with their financial matters and dreams. While the bank is celebrating this anniversary, we've always said it is not about us but about our customers...we are celebrating their support and loyalty for these many years," Jenks said.
A History of a Community Savings Bank
It all began when the Monmouth Homestead and Loan Association was established as the result of a petition directed to the authorities of the State of Illinois dated May 23, 1882.
The first location of the Association was nothing more than a desk drawer in the law firm of Lyman W. Case, the first secretary.
When T.G. Peacock assumed responsibility, the office was located on the second floor of the three-story Woods office building, which was later occupied by the Monmouth Trust and Savings Bank.
Judge Peacock later moved to the first floor quarters in the southwest corner of the public square in a building owned by the Warren County Library Association.
In 1938 the former People's National Bank Building, located in the southeast area of the public square, was purchased and occupied. During 1958 the office was remodeled and the name changed to Monmouth Savings and Loan Association.
That structure was destroyed by fire in 1974, and a new banking facility was built at the present location, 220 East Broadway in Monmouth.
During its existence, there have been but six managing officers, four having been father and son succession.
Lyman W. Case was the first secretary and he served until 1884. Judge T.G. Peacock was elected as President and Managing Officer in 1884 and served until 1921 to be succeeded by his son, C. Shellar Peacock who served as President and Managing Officer until 1943.
Wendell F. Whiteman became President/Managing Officer in 1943 and was succeeded in 1966 by his son, Ralph, who served until 1990. Stanley D. Jenks has been President and CEO since 1990.
(
In 1972, the Stronghurst Building and Loan Association merged with Monmouth Savings and Loan Association and the name of Security Savings and Loan Association was adopted. A branch office continued in Stronghurst and a new office building was erected in 1978.
In 1973, Security Savings began a program of adding new financial services to its traditional role of providing mortgage lending and deposit services by the introduction of consumer lending services for personal use and automobile purchases. Then, in succession, the following services were added: checking accounts, commercial/business loans and services, and agribusiness loans and services.
A new building at 220 East Broadway was completed in December 1974. Expansion took place in 1977 when offices were constructed in the lower level and became the home of the loan department and the accounting department. Another expansion occurred in 1980 when additional office space and a safe deposit vault were added on the main floor.
In 1994 Security Savings changed its charter issued under the Illinois Savings and Loan Act. The new savings bank charter was adopted under the Savings Bank Act that had been enacted by the Illinois legislature in 1990. So, the organization that was once known in succession as Monmouth Homestead and Loan Association, Monmouth Building and Loan Association, Monmouth Savings and Loan Association, and Security Saving and Loan Association, became Security Savings Bank on July 1, 1994.
In 1999, upon the approval of the depositors of Security Savings Bank and the Office of Banks and Real Estate, Security Savings Bank changed its form of ownership from an Illinois state-chartered mutual savings bank to a state chartered mutual holding company.
Remaining an independent community-oriented local institution, the mutual holding company form of ownership increased the bank's flexibility to add products and services in the future while giving Security Savings opportunity to grow and increase its customer base and market for financial services.
Also in 1999, a new addition that nearly doubled the building size was built onto the Stronghurst branch office.
In 2000, the Monmouth main bank building was extensively enlarged and renovated with a two-story building addition that nearly tripled the space.
Also in 2000, Security Savings Bank expanded its financial services through the acquisition of the bookkeeping firm, Lovdahl & Shimmin, Inc.
The firm relocated to the lower level of the main bank building, providing new and existing bank customers with bookkeeping, payroll and tax preparation services.
Security Savings has seen many changes over the years since its meager beginning in 1882.
"Our excellent customer service offered at the beginning continues to be the cornerstone as expanded banking products for personal, business and agricultural needs are delivered to communities served by the bank," Jenks said.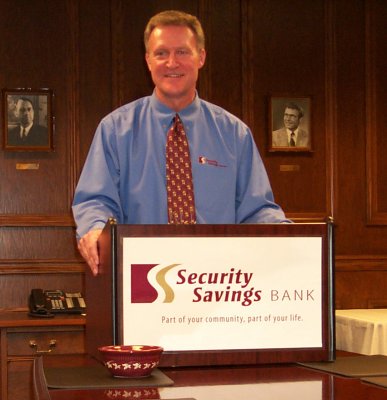 CEO Stan Jenks, unveils new logo.
---