The Hancock-Henderson Quill, Inc.

---
"Herbie's" Is Ready To Open
by: Jennifer Sparrow, Special For The Quill
A new restaurant called Herbie's Ice Cream & Stuff, located along the Carman Blacktop road in Lomax, is set to open on March 26, 2007.
Herbie's will be open from 8 a.m. to 6 p.m. during the winter season and will be open from 6 a.m. to 9 p.m. during the summer season.
In addition to offering 24 different flavors of ice cream, the varied menu includes daily breakfast specials, breakfast sandwiches, cinnamon rolls, pizza, appetizers, and hot sandwiches. Herbie's will be offering cold sandwiches and salads later in the year.
The restaurant has indoor seating, a pickup/drive thru window and will have outdoor seating and motorcycle/bicycle parking this summer.
Customers can call in their order ahead of time for hot food and pick it up at the drive-up window or drive up and order a cinnamon roll and coffee on their way to work in the mornings.
Herbie's also has two flat screen 100 channel satellite televisions and is Wi-Fi connected for wireless internet users who would like to use their lap top while at Herbie's at no charge.
Carrie Cline is the manager of Herbie's Ice Cream & Stuff. She is a new resident to Lomax and is very excited about getting started and is looking forward to meeting people in the area.
The cook is Craig Harman. Craig lives in Dallas City and is retired from Case. He has three years prior experience and loves to cook.
Herbie's will be offering special discounts for Veterans and Senior Citizens age 65 and older.
Children will receive a free ice cream cone for every "A" they receive on their report card. The child needs to bring in their report card at report card time.
The restaurant is named after it's owner, Herb Smith. Herb Smith was born and raised in Lomax.
His career sent him all over the country, but he has many friends and family members here and has always considered Lomax his home.
As a child, Herb has fond memories of going to Mrs. Moulton's Tasti-Freeze in Lomax. Herb says she was a very sweet and kind lady who loved kids. She was a wonderful mentor to the kids who frequented her restaurant.
She taught the kids basic life lessons. Herb recalls that the kids thought so highly of her that they didn't want to disappoint her. She didn't put up with "riff raff" and her establishment was a safe place for kids to hang out.
In 1960 Karl and Marietta Schaefer purchased the business. They retired and closed the business in 1984. The building was eventually torn down in 1996.
Herb Smith would like to recreate the atmosphere that was such a positive influence on him as a child. His restaurant will offer good, reasonably priced food, in a clean, smoke-free, and safe atmosphere where people of all ages can gather and socialize.
He hopes people who come to his restaurant will be comfortable and that Herbie's will serve as a place for folks to come in and relax, visit with folks, or just watch the traffic go by while drinking a cup of coffee or having an ice cream cone, a break from the busyness of life.
Herb has taken great care in choosing great tasting food and a good location for his restaurant. Herbie's is near the crossroads in Lomax and the local ball diamond.
A year ago Herb also built a 16 storage unit facility near the restaurant called Lomax Storage. There are 12, 10'x 20' units,2, 20'x 40 , or 4, 20x20 units. Herb hopes you will stop in and check out Herbie's Ice Cream & Stuff.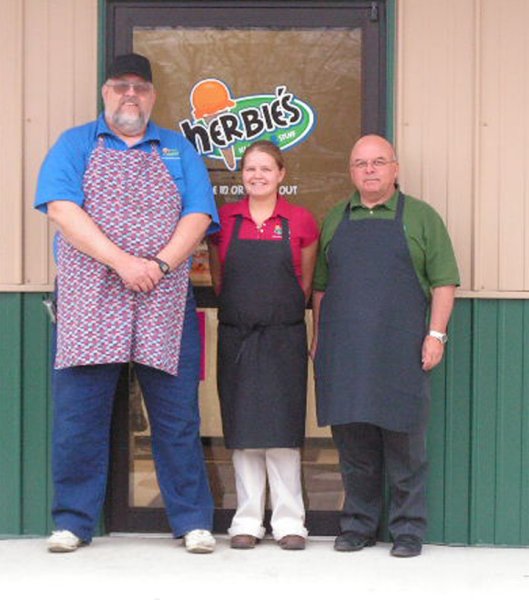 Craig Harman of Dallas City and Carrie Cline of Lomax are ready to cook, and ready to manage at Herbie Smith's new "Herbie's Ice Cream & Stuff" in Lomax. The new eatery opens this Monday, March 26th. Craig Harman, Carrie Cline and Herb Smith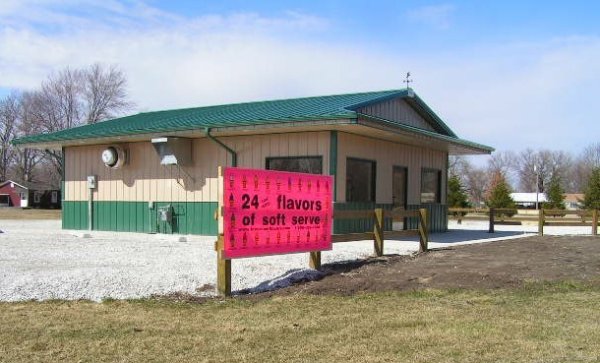 Herbie's Ice Cream & Stuff in Lomax will be offering a free ice cream cone for every "A" children receive on their report card, also discounts for Veterans and Seniors over age 65.
---