The Hancock-Henderson Quill, Inc.

---
Community Spotlight
Community Spotlight - La Harpe Highway Family Restaurant
by Holly Willdrick, Quill Staff
Many may have already made a visit to the new La Harpe Highway Family Restaurant.
Joseph Purelku, owner of the Bushnell Highway Family Restaurant and now La Harpe's, reopened the doors to the previous Route 9 Cafˇ on Saturday March 17.
Joseph did some remodeling to make more seating and give it a fresh look. He has been in the restaurant business for 14 years and before that he was in the food industry in Europe.
Joseph moved to Bushnell sixteen years ago with his wife Kadime, and three sons Dukagin, Burur and Ilir were he had other family.
A couple of years later he open the Highway Family Restaurant in Bushnell.
It was at that restaurant that he met a family from La Harpe who told him they need a good family restaurant in La Harpe.
They continued to visit his restaurant and kept telling him he needed to open a restaurant in La Harpe.
They talked Joseph into joining them for a meal at the Route 9 Cafˇ which lead him to find out if they would like to sell him the business.
They in fact did and Joe is excited that he was able to save a local business and bring his business into our community.
"We have come to do business and are going to be here for a long time."
The restaurant has a large variety to choose from. They have a breakfast menu that you can order from all day, sandwiches, seafood, steaks, Italian dishes, Oriental dishes and a menu for lighter eaters.
They also offer a senior menu and kids menu. Along with the menu they will be offering daily specials for all meals and say that the homemade lasagna has been a favorite in Bushnell.
Some of the other favorites are the skillet breakfast (where you pick your own ingredients), homemade tenderloins, Liver and Onions made to order, fried catfish fillet and the hand breaded house chicken.
"We want to serve fresh good quality food." Some would call it homemade county cooking.
He hopes to always have enough staff that you will always be taken good care of and not have to wait to long.
He also welcomes any comments or suggestions on what they need to improve or change as well as things the community would like to see added.
So far the restaurant has been very busy and Joseph has met several nice families from the community.
"The people are very pleasant and we like the community."
He prides himself and his restaurants on being in touch with the customers.
So if you see Joseph and his family in the community be sure to give him a warm welcome into our community.
The La Harpe Highway Restaurant will be open seven days a week from 6 a.m. to 9 p.m.
Carry out orders are also available and can be placed by call 217-659-3228.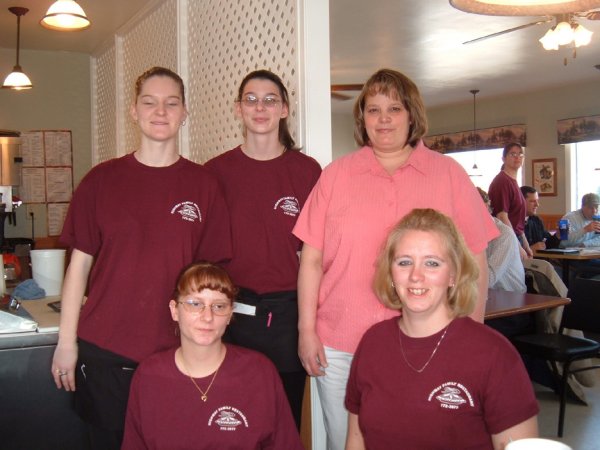 From back left: Kristi Ide, Marsha Putnam, and Marsha Wilcoxen. Front left: Betty Jones and Stacey Yard.
---