The Hancock-Henderson Quill, Inc.

---
County Rural Health Happy About Pharmacy Plans;
Senator Sullivan Awarded For His Help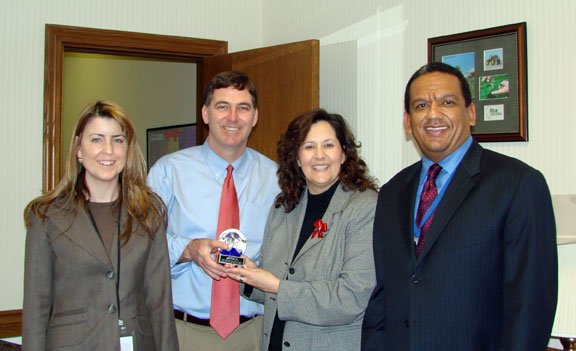 Senator Sullivan honored with IPHCA Legislative Recognition Award: Pictured at the ceremony in Springfield are Jill Hayden, IPHCA's Director of State Governmental Affairs, Senator Sullivan(D-Rushville), Melinda Whiteman, Executive Director, Henderson County Rural Health Center, Inc. and Philippe Largent, Vice President of Governmental Affairs, IPHCA.
Springfield- The Illinois Primary Health Care Association (IPHCA) recently awarded State Senator John Sullivan (D-Rushville) with its Legislative Recognition Award.
The IPHCA is a non-for-profit trade association that serves as Illinois' sole primary care association. It's mission-to increase access to high-quality, cost-effective primary health care services in urban and rural populations throughout Illinois, regardless of an individual's ability to pay.
Funding, which Sullivan helped pass, allowed the Henderson County Rural Health Center (HCRHC) to construct an onsite pharmacy at the Health Center in Oquawka. The funds are provided by the Community Health Center Expansion Act.
The pharmacy is expected to open in the fall of this year.
"We are very excited about our pharmacy," said Melinda Whiteman, Executive Director of the HCRHC. "Senator Sullivan must be recognized for his tremendous support towards this project. Without him, affordable pharmaceuticals for the patients of the HCRHC would still just be a dream. This will impact many, many people."
"It is a great honor to be recognized by the Primary Health Care Association," said Senator Sullivan. "The Association works so hard to provide affordable and quality health care services for the people of Illinois. They are the ones who deserve recognition."
The HCRHC serves over 5,000 local residents at locations throughout Henderson County and, in total, provides service to 23 townships in the counties of Henderson, Mercer and Warren.
Financial help will also fund the McDonough County Community Dental Center which is due to open in Macomb on July 1st.
---