The Hancock-Henderson Quill, Inc.

---
Camaraderie Through Competition
By Philip Geiser, West Central
Silence blankets the schoolroom like fog rolling off the Mississippi. Ten pairs of eyes focus unblinkingly at the moderator as the question carefully unfolds. Before the sentence is finished, a buzzer sounds and a light blinks before one of the contestants. Someone has taken a chance and anticipated what the end of the next question in the Scholastic Bowl contest will be.
From November through March members of the Scholastic Bowl teams in schools throughout west central Illinois meet to practice and to compete for top scholastic honors in the Lincoln Trail Conference. Five-member teams from each school face off against an equal-sized team from another conference school in a 15-question contest with additional bonus points awarded for correct answers. The contests feature both varsity and junior varsity teams.
Typically, a few parents, a few classmates, and the coaches are in the audience for one of the many after-school meets. Although no admission is charged to the contests, only the faithful followers of the team usually witness the typical 45-minute contest. Everyone in the community, of course, is invited to attend.
Questions may come from spelling, geometry, algebra, literature, current events, history, and nearly any other school subject or topic of common knowledge. Coaches generally sit in on the competition diligently keeping score and settling any disputes about whether answers given are exactly correct or not.
Mrs. Mary Killey, coach of the West Central High School Scholastic Bowl team, has been involved in these competitions for five years now. She began as a question reader (officially known as a Moderator) for contests before she assumed official coaching duties. And she truly enjoys academic coaching.
Killey says, "It's neat being with the kids. Sometimes they give me too much credit. They're so smart in some things, I'm impressed."
That positive attitude toward the team and the spirit of academic competition has led to a positive relationship between coach and team.
Although a conference championship is at stake, Killey is most impressed with the differences between athletic competition and scholastic competition.
"A Scholastic Bowl competition is actually a very dignified and reserved setting. We have rules of behavior, and the students treat contests as a respectful activity," stated Killey. "There's less stress than an athletic competition."
Questions about school subjects are not the only things competitors learn during Scholastic Bowl season. Killey noted that students gain "self-confidence and confidence in their own mental abilities. They push the button and try to answer a question. What they're really doing is pushing themselves to take a little risk and put their knowledge on the line. They soon learn that it's OK to be wrong, and what's really important is that they try."
What impresses Coach Killey the most, however, is the team spirit developed over the season among the varsity and junior varsity teams.
"They're very cohesive; they really like each other. We've developed a very real camaraderie this season, and the contestants really enjoy the meets. And they even enjoy the bus rides to away contests!" Team members compete with other schools several times over the season, and Killey claims, "They've gotten to know the students on the other school teams.
It's a really friendly competition."
West Central has ten members on the junior varsity team and five on the varsity. Contestants participate for a variety of reasons.
JV Captain Michelle Gyovai, in her second year of competition, said, "I like being in Scholastic Bowl with my friends, and I like being able to compete."
First-year competitor Jesse Sams most enjoys, "just having fun at meets. I enjoy learning new and interesting things."
Erin Bavery is typical of many of the Scholastic Bowl members who are now competing at the high school level after gaining experience at the junior high level. Bavery participated for two years in junior high and now is in her first year of high school competition. Erin observed that, "I'm learning more and testing what I already know. I like to compete, and I enjoy learning."
Just the social fun of being together as a team also comes into play for contestants.
Varsity member Cameron Lemaster admits, "I enjoy spending time with people I like," but he also concedes that he's out for the team because his girlfriend talked him into joining. Varsity team captain Alyssa Griepentrog noted that, "The buzzers are fun!"
Alyssa began competing in junior high school, "found it fun, so I kept doing it." Her five-years experience has made her a leader of the team.
Fans won't find any cheerleaders at a Scholastic Bowl meet; neither will there be any referees with striped shirts and whistles on the premises.
But there will be plenty of the spirit of healthy competition at most meets.
Yes, contestants do try their best to win their game, but none of the team members mentioned winning as the primary objective. For this kind of competition, it's more about learning, participation, and the camaraderie of working together as a team.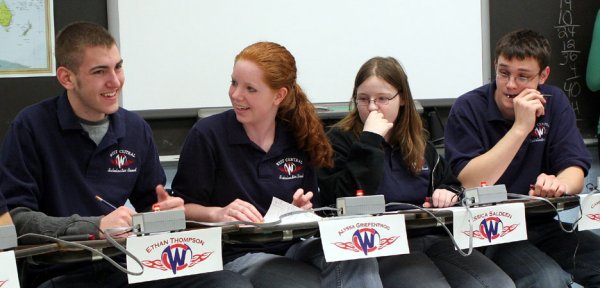 West Central Varsity Scholastic Bowl team members Ethan Thompson, Alyssa Griepentrog, Jessica Saldeen, and Cameron Lemaster respond to a Bonus Question during recent competition.
---