The Hancock-Henderson Quill, Inc.

---
Community Spotlight
Oquawka Seeing New Businesses
by: Dessa Rodeffer - Quill Publisher/Owner
Oquawka has some good things happening in business development.
There are two new places to eat, a towing company, and later in the fall, a new pharmacy will open that will deliver anywhere in the county.
Over Memorial Day weekend, Pete and Heidi Miller opened what they have named the "Subwich" shop next to the Oquawka Village Hall on Schuyler Street.
You would almost think you were in a Subway restaurant except for the freshly baked bread. Their sub sandwiches are delicious, filling, and at a good price and the atmosphere is clean and bright. Pictures of the early history of Oquawka are neatly hung on the walls along with other momentums from the past.
Pete is handy with the tools and enjoys the history of Oquawka. He said Jim Devore built the building in 1928 as a Chrysler dealership and a Texaco gas station, and it has been used for many things over the years, including building Dragon Boats.
Pete has fixed up three apartments in the upstairs, had had an empty room downstairs after the Henderson County Coalition moved across the street.
When he ran across the equipment for subs, he decided to make the space prosperous with a sub shop.
His wife Heidi and Pete help their nine employees run the business 7 days a week.
Subwich hours are Monday-Friday 10:30 am to 10 pm and until 11 pm on Saturday and Sunday.
There are a lot of different varieties plus regular sliced breads along with the sub style buns. They have wraps, salads, and loaded potatoes.
Pete also runs M&M Custom at the edge of town where he mainly keeps busy with collision repair.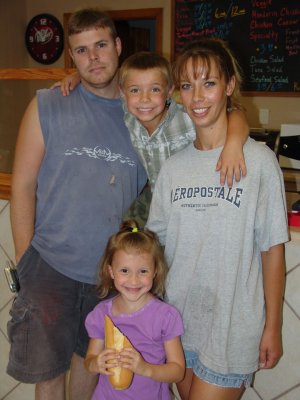 Pete and Heidi Miller with 6 year old son Kenny, give their 5 year old neice Makenzie of Oklahoma, a Subwich to enjoy.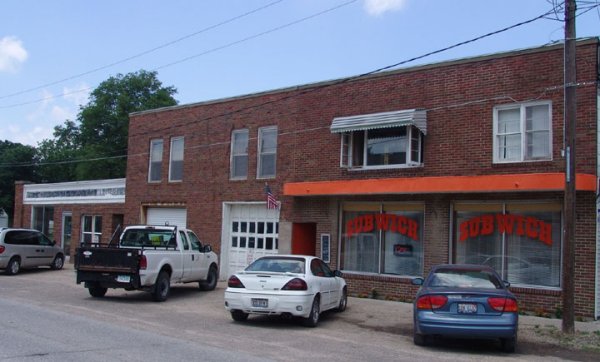 After Crazy Mary's Pizza burned down, Jeff Gilmour and his wife Shawn of Keithsburg, along with his dad Gene and his brother Tim bought the lot and opened "Gilmour's Auto Sales". Crazy Mary's was in the home where his father Gene was born and where Jeff grew up.
Today, Jeff and Shawn are opening another business along side Gilmour's Auto Sales. It is Happy "G's" specializing in hand dipped ice cream, malts, shakes, and sundaes, Chicago Style Hot Dogs, Subs, Tacos, Burittos, Quesadeas, and of course "Happy G's which are a lot like a Maidrite.
Last year, Jeff ran across a Trolley Car under renovation in Monmouth and bought it. It had suffered a fire and the Wisconsin buyer had given up on fixing it. Jeff and Shawn spent the winter gutting it and bringing it back to life.
The idea was to give their two daughters, Tara-16 and Tori 14, a summer job. (They also have two sons Travis, 15 and Tyler 20)
Jeff and Shawn have given the old trolley, that ran in Dubuque, Iowa, a new lease on life and even learned a few tricks along the way, like using catsup to quickly clean the green tarnished brass.
They moved it on the same grounds as Gilmour Auto Sales, built a deck and have added patio seating with brightly colored umbrellas, and sturdy benches taken from the trolley.
Customers will enjoy music piped outside of "Milk Shoppe Memories."
Hours are 7 days a week 11am to 8pm, until 9 pm on weekends.
Jeff and his family also run a Tuckpointing business, and Shawn runs an Internet business of collectible horses.
The couple live in Keithsburg.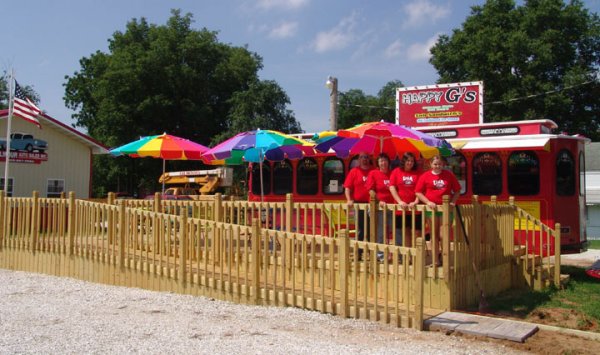 Jeff and Shawn Gilmour, daughters Tara and Tori are ready for Wednesday's opening of Happy G's in Oquawka on the highway east of the Phillips 66 Station.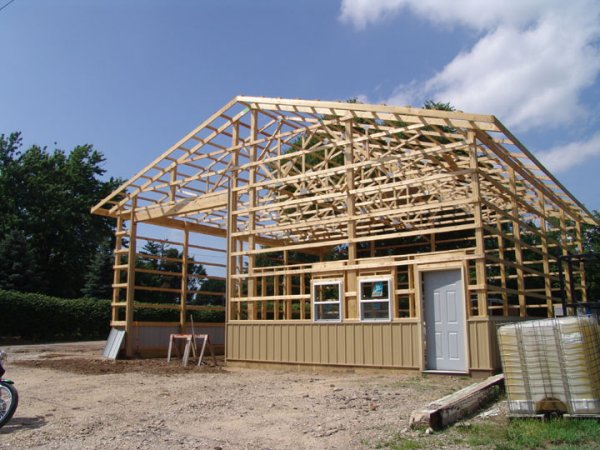 Berg's Towing is also coming to town from Monmouth, where Bailey's Oil was located. The building will be large enough to tow in a semi, builders said.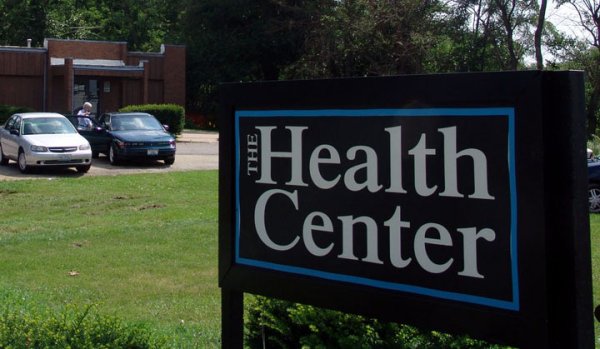 And at the Henderson County Rural Health Center, Director Melinda Whiteman said the Brent Family Pharmacy is planned for an October opening at The Health Center if all goes as scheduled.
---