The Hancock-Henderson Quill, Inc.

---
Meet Your Neighbor
by Susan Galbraith, The Quill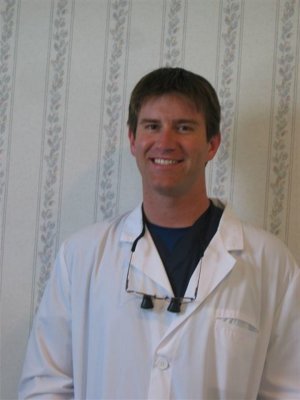 Meet your neighbor, Dr. Brian Good, of Goods Dental Care, at rural Biggsville.
Brian is taking over the practice his dad established in 2002. He will be joining his sister, Jennifer, dental hygienist, at Good Dental Care.
Brian was born in Alton and raised in the Henderson County area.
He graduated from Union High School in 1998 as valedictorian of his class.
While at Union he played football and participated in track. He graduated from Augustana College in Rock Island in 2002 and from SIUE Dental School of Medicine, Alton, in 2007.
He is married to Larisa and they have been married for 4 years. He and Larisa recently bought and moved into Janet Lafary's home in Smithshire.
His parents are Cathy Good and the late Dr. Paul Good.
He has two sisters, Jennifer and Emily. Jennifer is married to John Benge. They have two children, Madison, and Macy and live in Stronghurst. Emily is a sophomore at Webster University in St. Louis, Missouri.
Brian enjoys music, movies, jogging and the Chicago Bears.
A memorable time he recalls is getting his shoe stuck in an escalator in Disney World when he was 10 years old. His shoe had to be cut off. An experience the whole family will never forget.
Their family also attended two Star Trek conventions in Chicago as he and his dad were big Star Trek followers.
He and his bride, Larisa, honeymooned in Europe for 3 months. While there they spent time with several foreign exchange students that had stayed with the Good family over the years.
An open house was held for Brian at the Biggsville Community Center, over Memorial Day weekend, to welcome him and his wife to the community.
If you weren't able to meet Brian at the open house in his honor, stop by Good's Dental Care and introduce yourself.
---