The Hancock-Henderson Quill, Inc.

---
Much Fun, Many Accomplishments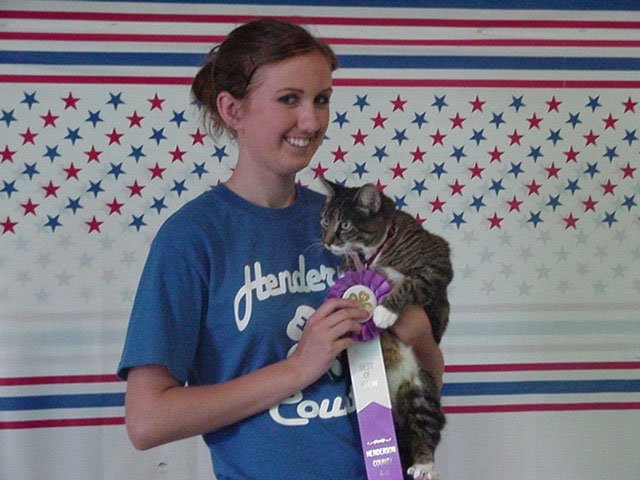 County 4-H Fair is Over
Julianna Gillam of Media won Best of Show in Cat Care this past week during the Henderson County 4-H Junior and Open Show held in Stronghurst.
The Henderson County Fairgrounds was busy with around 3,000 open entries, plus many 4-H entries. Cash and ribbons went to top winners.
The week-long event was packed full of fun with everyone invited to a free Bank of Stronghurst breakfast early Tuesday morning, and then all entered free of charge on Wednesday-Family Night, courtesy of the Bank of Stronghurst who picked up the tab. It was also Carnival Arm Band Night, Kiddie Tractor Pull, and Mud Volleyball involving 25 teams. The finals were rained out Wednesday, and winnings were divided among the final 4 teams. Players were plastered with mud and masking tape or duct tape kept their shoes on. Bleachers were packed on Thursday, Friday, and Saturday's night's Figure 8 and Oval races.
Early Saturday, a tractor pull was enjoyed. Plenty of good eating was offered each day by different groups overseen by Roger and Chris Cook. Bryan Arnold is President of the Fair Board. Illinois county and state fairs are state funded events and do not receive any county or local tax funds.
---