The Hancock-Henderson Quill, Inc.

---
Community Spotlight
-by Holly Willdrick, Quill Staff
ILLINI WEST CHARGERS
The Birth Of A School
On July 1, 2007 at 5 p.m. in Carthage, Unit School District #307 was born and given the name Illini West Chargers.
The birth was celebrated with a Kick Off Party in Carthage.
In place for the occasion was the new Illini West Chargers sign proudly on display above the entrance to the school.
Mayors from La Harpe, Dallas City, and Carthage were in attendance along with many community members and students from all three towns.
It was an evening of fun with a talent show, dunk tanks, inflatable games for the kids, free food, teen dance and fireworks. Also coming together for the first time to perform was the Illini West Marching Band, Dance Squad and Cheerleaders.
During a speech given by new Superintendent Mike Mauzy he stated "Someday people will ask each other, do you remember where you were at, when Illini West was born?"
The talent show was another highlight of the evening with many performers entering in areas of dance, singing and playing instruments. The talent show was a fund-raiser for the cheerleaders and the crowd voted for the contestants by placing donation in the buckets with the contestants photos on them.
Taking home first place was twelve year old Alyssa Willey of Carthage singing a song from the Broadway show Wicked.
Also attracting a crowd was the dunk tank put on by the incoming freshman class. Gatherers had the opportunity to try and dunk Coaches Jim Unruh and Todd Porter. "Anytime a coach is in the dunk tank there is always someone who wants to get them wet." says Coach Unruh.
The Illini West booster club was also on hand selling t-shirts in blue, orange and white with the Charger's mascot on them.
The mascot was designed by graduating Senior Tyler Sharpe of La Harpe. This was the first fund-raiser for the new booster club.
As a parting gift the Carthage Booster Club used the last of there money to build a weight room for Illini West. The Illini West Booster Club is now starting from scratch.
The evening ended with the teen dance and fireworks. Many of the students are looking forward to the upcoming school year and already feel that they are becoming ONE!
"It was an amazing evening with a great turnout," said Ann Cokel of Carthage, mother of Elizabeth Cokel upcoming freshman at Illini West.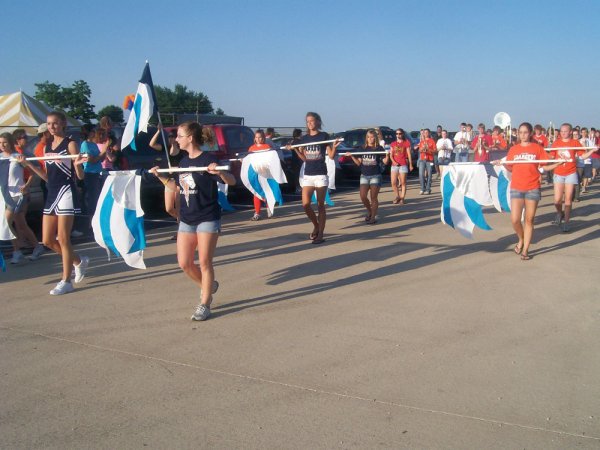 Flag Squad leading in the marching band for their first performance.
---