The Hancock-Henderson Quill, Inc.

---
Community Spotlight
Literacy Fair
-by Holly Willdrick, Quill Staff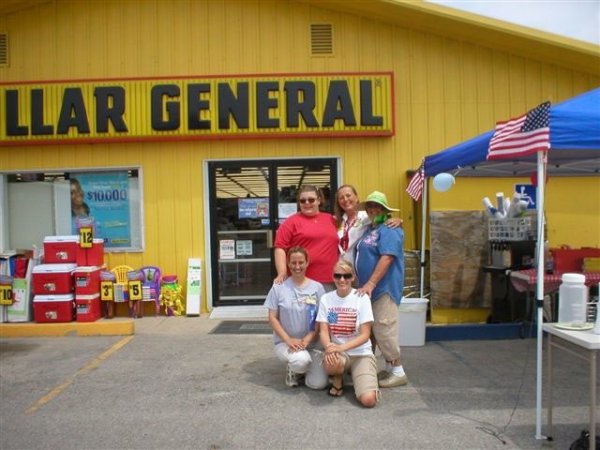 The La Harpe Dollar General held a "Literacy Fair" to help raise money for the Dollar General Literacy Foundation.
There was face painting for the kids, a bake sale, hotdogs and pop. The bake goods were all donated by the La Harpe employees, the pop from Pepsi in Macomb, hotdogs from ConAgra and the buns were donated by Glen and Virginia Gleason of La Harpe.
After selling out of all the baked goods and selling many hotdogs, they had a grand total of $200.00 at the end of the day.
Dollar General was founded in 1939 under the name of J.L. Turner & Son as a wholesale business in Scottsville, KY. Getting to this point had not been easy for J.L. Turner. His father had died in an accident in 1902 when J.L. was only eleven.
He had to quit school so he could work the family farm and help provide for his mother and siblings. He never went back to school but became a quick study of the world around him. He tried twice to open a retail business but failed both times and became a traveling dry goods salesman.
After ten years he left that job and settled with his family in Scottsville, KY. During the Depression, he began to buy and liquidate bankrupt general stores. His only child, Cal Turner Sr. started going with him at a young age and picked up on a lot of the business knowledge and skills. It was in October 1939 that they opened that first store with an initial investment of $5000.00 each.
Wholesaling was quickly becoming a thing of the past and J.L. decided to give the retail business one more try. The switch to retailing resulted in annual sales above $2 million by the early 1950's. J.L. passed away in 1964 and four years later his son and co-founder went public as the Dollar General Corporation.
A third generation, Cal Turner Jr., joined the team in 1977. He later succeeded his father as president until his retirement in 2002. They now have more than 8,000 stores in 35 states. The company has remained true to the humble ethic of hard work and friendly customer service set fourth by the founding family.
It was J.L. Turner, co-founder of Dollar General, who began the commitment to literacy that the company still has today. With only a third grade education he understood more than anyone the value of an education. The Dollar General Literacy Foundation was established in 1997 and is now is in it's tenth year of annual grant making. The average grant is around $8000 but there have been exception up to $15,000. Last year the foundation awarded a minimum of 1,000,000 in grants.
Over the last couple of years Carl Sandburg College in Hancock County has been given two grants. One in the amount of $10,000 and the other in the amount of $11,000. So know you know that when you drop a little change into the bucket at the cash register it is getting put back into your community.
"The community has been great. We ask each customer every time they check out if they would like to donate and most customers drop in their change." stated Michelle Carden, store manager at La Harpe. The buckets are always there so next time you make a purchase at your friendly Dollar General Store drop in your change. Every little bit makes a difference.
For more information on how to receive a grant visit the Dollar General website at dollargeneral.com.
Dollar General Employees from back left : Michelle Carden, Debbie Little, Virginia Gleason;Ê Front left: Mindy Johnson and Dana Eddington
---