The Hancock-Henderson Quill, Inc.

---
Meet Your Neighbors, The Hoskins
by Susan Galbraith, The Quill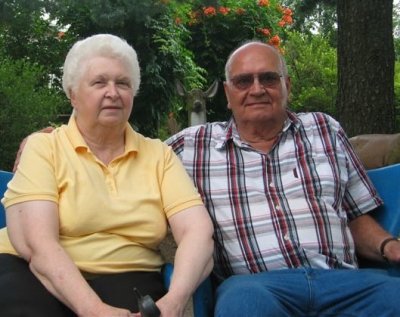 Meet Your Neighbors Roy Gene and Darlene Hoskins, owners of Hoskins Blueberry Farm since 1984. Their farm is located north of Oquawka on the Keithsburg blacktop.
Gene retired after 30 years of employment by Case in East Moline, which was later bought by International Harvestor.
Darlene is a chef and has worked at the Aledo Country Club, and was employed at Bishops Cafeteria in South Park Mall, Moline, when it first opened its doors. She has worked at many other restaurants.
Gene was born and raised in the Oquawka area and Darlene was born in Davenport, Iowa.
They met when Darlene's parents came to Oquawka on a summer visit. Darlene was very adamant about not wanting to go to Oquawka with her parents that summer because she knew there was just nothing to do and no place for her to get a job.
And then she met a lady that she identified as an Indian to her parents. That Indian lady turned out to be her future mother-in-law.
She was dressed in a peasant top and skirt which Darlene thought looked just like an Indian squaw. But it only took 6 weeks for their courtship to turn into marriage. Gene said, "People said it wouldn't last."
He attended Oquawka High School until his last year when Oquawka and Gladstone converged and then graduated his senior year from G & O. Darlene graduated from high school in Davenport, Iowa.
They will be married 57 years on October 24 of this year.
They have one son, Jack (Linda); three daughters, Vicki (Jerry) Larson, Susan (Dennis) Chase and Sondra.
Gene and Darlene have been blessed with 7 grandsons, Thomas, Stephen, Daniel, Jeff, Matt, Brandon and Joey; and 6 granddaughters, Jackie Lynn, Missy, Elizabeth, Amber, Jesse and Megan.
Gene has three brothers, Ronald, who lives on Hoskins Bend, James, of Crestview, Florida, and Richard of Gardner, North Carolina. One brother, Jerry Dean is deceased. Darlene's siblings are all deceased.
Gene enjoys the outdoors, planting various plants and watching them grow. He is an avid Chicago Cubs fan, likes to fish although Darlene has outlawed him from fishing in the river alone.
Darlene loves to cook, sew, paint, and has crocheted numerous afghans. Until the past 7 or 8 years they traveled to Florida and spent every winter at Ft. Myers, but now prefer to stay closer to home in the winter months.
The couple are now very busy with blueberry season.
---