The Hancock-Henderson Quill, Inc.

---
Community Spotlight
Firemen Training
-by Holly Willdrick, Quill Staff
The La Harpe Fire Department were able to get some hands-on practice at their monthly training session held last Thursday evening.
Wes Perry, of La Harpe, had recently tore down an old house he purchased next to his own home.
Perry asked Fire Chief Jerry Brown if the fire department would like the opportunity to burn it.
Brown was unsure if they would be able to do the burn due to its location between two homes and with a tree close by. The pile of lumber was rather high and would cause quite a flame.
After a few days of letting the lumber settle, Brown decided that they would be able to do the burn and it would provide some excellent training experience.
Firemen set the demolished building on fire around 6 pm Thursday. The main focus was to keep the surrounding homes, fence, and trees from catching fire which were around 30 feet away.
The department trained on pump operations, hose line operations, and SCBA (Self Contained Breathing Apparatus) under the guidance of their training officer Wes Carpenter.
Volunteer Fireman from three departments attended the training for a total of 26 out of the 53 volunteers.
Taking part were: Bob Reed - Terre Haute Fire Chief and Jeff Love - Assistant Fire Chief for Terre Haute; Ft.Green Fire Chief Ricky Johnson and Assistants Tom Hastings and Alfe Williams; La Harpe Country Fire Chief John Link, LaHarpe City Fire Chief Derrick Helmers and Assistants Chad Burt and Lenus Duffie.
The department was at the fire until around 10 pm when it was determined under control and safe. Firemen loaded up their equipment and headed back to the fire house for a well deserved meal of pizza.
The fire was checked on through out the night by Fire Chief Jerry Brown, City Police Officer Larry Finch and volunteer fireman Dan Carpenter.
Firemen are required by the trustees of the department to have a total of 20 hours each year of training with 4 hours of that being in hazard material.
Each month they have at least a 2 hour training plus they have several other training opportunities throughout the year.
The firemen's commitment to this community to keep it safe and the children safe as well is evident in the hours they serve. To help the children, once a year during Fire Prevention Week ,the department takes "The Smoke House" to the school and teach the kids about fire safety. The local firemen in the La Harpe community give up a lot of their time to make sure residents are safe and their children know what to do in case they have a fire.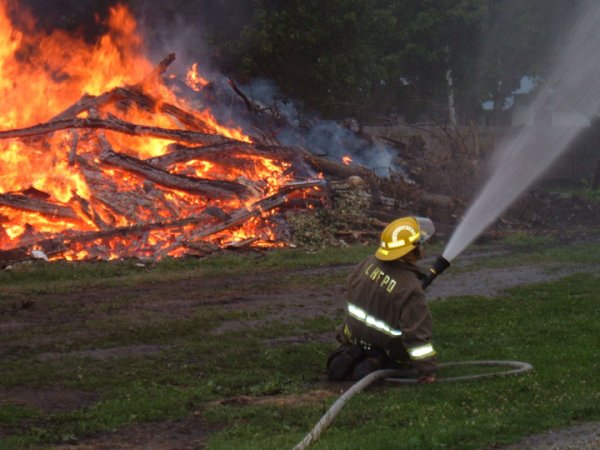 Fountain Green Assistant Fire Chief Alfe Williams helps secure surrounding buildings during a training burn last Thursday evening.
---