The Hancock-Henderson Quill, Inc.

---
Cattlemen Beef It Up
by Dessa Rodeffer/Quill Publisher/Owner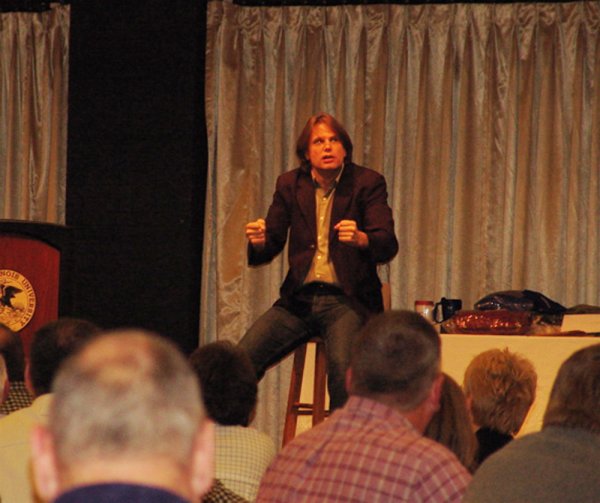 Cattlemen from Warren, Henderson and McDonough County not only hosted a strictly beef meal with all the trimmings this past weekend, but also entertained the crowd with a comedian who had several beefs of his own.
It all happened Saturday evening at Western Illinois University's Union Grand Ball Room where over 3-400 farmers and supporters gathered for the Tri-County Cattlemen's annual banquet.
After a delicious meal of marinated and grilled Ribeye steaks, scholarship winners for last year and their sponsors were recognized. Two letters of appreciation were read from students that could not attend due to school conflicts - Theresa Brokaw and Nick Burg of rural Stronghurst.
President of the Tri-County Association Dudley Ricketts recognized Senator John Sullivan and State Representative Rich Myers and thanked them for coming and for their support to the beef producers of the area.
Cliff Schurette, President of the Illinois Beef Association shared news of their organization including the popular "Opportunity Returns" round table sessions they are hosting at college campuses around the state to entice and educate the younger generation about the opportunities in agriculture and beef production. He discussed the upcoming National Conference in Nashville, TN, and said it will be the largest conference held in some time with a lot on the agenda that will affect the future of farmers.
President Ricketts awarded the "Beef Backers" award for 2007 to Mike and Aleta Rossman, owners of Roseville Lanes.
Nationally known comedian Dwight Slade, of Seattle, Oregon, who has opened for Jay Leno and Sienfeld and is part of the comedy circuit came to Macomb in a rented Neon to perform. That was his first beef. His quick wit and humor was full of what his beefs were with life, ending with his top nine beefs including people who use punctuation in the speech. He doesn't like people giving unnecessary information in their driving directions. Guys who think and cluck at the same time. Signing people's casts. He's tired of women with tough studs. He's tired of big guys in little cars. He's tired of roadside memorials that can cause wrecks. And his top beef is NASCAR on the radio.
He concluded with a skit about what he describes as the most distracting thing in your car- the radio.
The evening concluded with an auction raising over $1100 for scholarships. The auction was conducted with the help of several board members and the services of Dan and Mike Sullivan aided by their brother Senator John Sullivan, and Brent Lowderman, owner of The Carthage Auction Barn.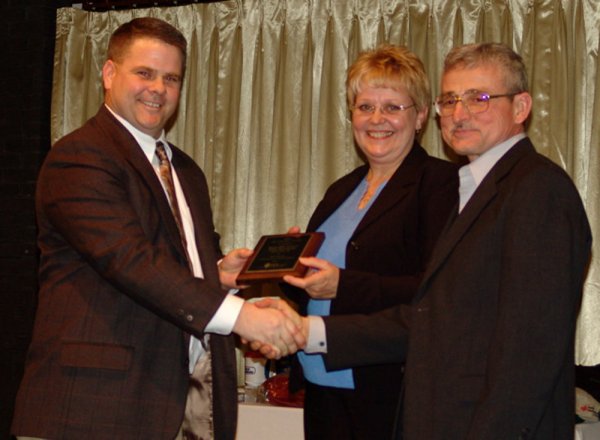 President Dudley Ricketts awards Beef Backers Awards to Mike and Aleta Rossman of Roseville Lanes, Roseville.
---