The Hancock-Henderson Quill, Inc.

---
Janet Lafary Retires From Postal Service
From "70 to "07 Janet got the mail through. Now, after 36 1/2 years, Janet Lafary has opted to retire, effective January 3. Her patrons and work associates will miss her.
Janet began her postal career in 1970 as a sub rural mail carrier in Smithshire. She would report to work at 7:00 a.m. and finish around 12:00 noon.
Then, in 1973, the postal service added the Media rural route onto Smithshire and her hours became longer. She would drive 110 miles every day to get mail to all of her customers.
Five years later, in 1978, she became the full-time mail-carrier, working Monday through Saturday with one day off. She did this on sunny days, rainy days and winter days when the weather was not fit for anyone to be out.
But her mail patrons will tell you that she was a conscientious employee whose only concern was for her customers and their mail.
She has seen a lot of families come and go over the years, serving two and three generations of families over the course of time.
Janet loved passing out candy to the little ones on her route as much as they liked receiving it, until the postal service deemed it too dangerous for her to do so.
(Yes, those were the days!)
She has picked up groceries on her own lunch time and then delivered them when she came to that customer's house out of the caring nature she had for others.
For nearly five years she delivered mail to an elderly lady that was confined to a wheelchair, taking her mail into the house every day and spending a few minutes chatting.
She was never bitten by a dog, not because there were not aggressive ones on her route, but because she was cautious and always followed postal regulations.
Janet has worked with 8 postmasters, 15 PMR's and 6 sub-rural carriers over the duration of her job.
She expresses how good her customers had been to her, and the staff at the postal service. She also has had tragedy. Janet's husband Ralph, passed away in 1993. Then she lost her only daughter in 1997. But she is blessed with a large family of 4 loving sons and daughters-in-law, Marty (Lisa), Scott (Dana), Dan (Jennifer) and John (Kathy). She has 8 grandchildren, 1 great-grandson and 2 step great-grandsons.
The postal service and her family have been her life. After retiring she will be spending time with her family, grandchildren, friends, and doing volunteer work at the Monmouth Hospital.
"Everyone has been so kind," she said, and she wishes Jeff Hilten (her sub for the last 5 years), all the best in his position as the new rural carrier in Smithshire.
"The employees will miss Janet greatly, Carol Olsen, Smithshire Postmaster said. "Take care, Janet. Live long, laugh much and enjoy your retirement."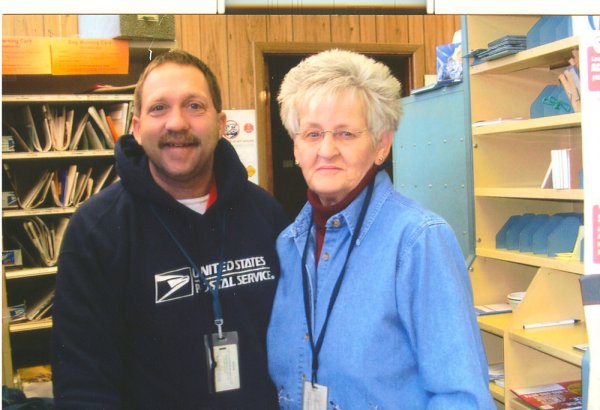 Janet Lafary retires after more than 36 years as Smithshire's rural mail carrier. Jeff Hilten moves into the position, trained well by Lafary.
---