The Hancock-Henderson Quill, Inc.

---
The La Harpe Businesses Of Wayne Yetter and Lenus Duffie and Selling Cars
By Holly Willdrick Quill Reporter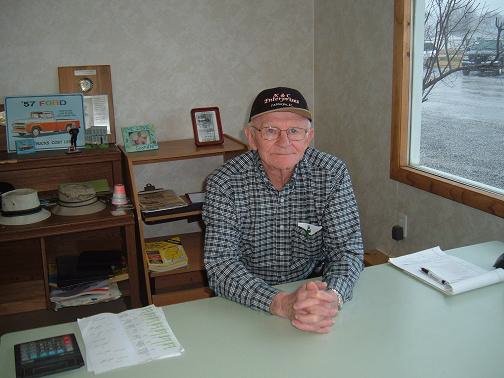 Wayne Yetter was born in Ft. Green and attended school there until his family moved to Carthage when he was in the first grade.
Mr. Yetter graduated from Carthage High School in 1948 and shortly after that went to work at the F.S. Warehouse in Carthage were he made $150.00 a month. "There were married men with families that didn't have jobs that paid that well. I was lucky for a guy right out of high school."
After some time at the warehouse Wayne and Harold Johnson decided to lease the filling station at the four way stop in Carthage. They ran this for 8 years and during that time they were drafted into the Army. Wayne spent 16 months in Korea from 1951 to 1953. "Those were the hardest times in my life."
During this time Wayne and Harold had hired a couple of guys and Wayne's dad to run the station while they were gone. Wayne loved meeting people and working on the cars. "They would come in and you would fill up the gas tank, check the oil and tire pressure and wash the windows. In the eight years I was there I didn't sell gas for more than $.20 a gallon. The kids would come in and get $.50 worth of gas and that would last them for some time."
In 1957 they decided to purchase the Ford Garage in La Harpe from the widow of Les Reeder. At that time the garage was located on Main Street. Harold stayed for a year before returning to Carthage to help his Dad at his garage.
Wayne sold his first car on January 3 or 4 to Mr. R.A. Myers. It was the first new Ford he sold and it went for less than $3000.00. He also recalls selling a car to a man in Carthage who's car payment was going to be $100.00 a month for 36 months. "I had a time trying to find a bank to take it, but I finally did."
Over the next couple of years Wayne ran the business by himself with the help of his dad and mechanic, Dale Reed. In October 1959 Bill Hasten came in as a partner. Wayne also remembers the sticker price on a new 1961 Ford was $3,100 and thought he would never find anyone willing to pay that for a car.
In August of 1975 Lenus Duffie came to work for them through the co-op program at the high school and started working full time for them after graduation. In 2002 Wayne and Bill were ready to retire and were looking into selling the business. "The hardest part of closing was going to be telling Lenus. He is like a son to me and it was going to be hard." Well they didn't have to tell Lenus goodbye.
Lenus and Ken Foster decided that they would buy the business. So on April 1, 2002 ownership changed hands and K&C Enterprise opened their doors for business. Now Lenus is repaying the favor for the job he had all those years by letting Wayne sell cars for them.
As of the first week in January 2007, Wayne has been selling cars for 50 years! "I have sold somewhere between 9,000 to 10,000 cars over the past 50 years. It has been fun over the years and I have enjoyed meeting all kinds of people."
Wayne was married in 1959 to Pat and they have one daughter Candy (Bobby) Lee. Wayne also has one granddaughter, Rossi (8), who was not to happy that Grandpa was selling the dealership and just couldn't believe that Grandpa was getting old.
---