The Hancock-Henderson Quill, Inc.

---
Hobby Retires As Mail Carrier, Jacob Hired
by Dessa Rodeffer, Quill Publisher/Owner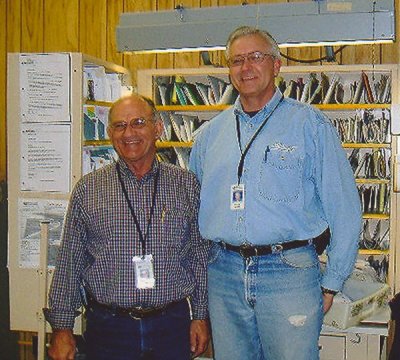 For 14 1/2 years, like clockwork, Larry Hobby of La Harpe would routinely begin his workday six days a week at 7:45 a.m. sorting mail, and then delivering it for 4 hours, ending his workday at the Stronghurst post office around 2:00 p.m..
Then, on Sunday, he and his wife Judy would attend worship services, and spend most of their time together with church, family, and friends.
In January, Stronghurst Rural Mail Carrier Larry Hobby is officially retired, his last day was December 28, 2006.
Now, he has the option of choosing what he will do each day, with the exception of a few jobs on his wife's "honey-do" list, and the care of some cattle he has on his farm.
His first week of retirement was spent at their home in the Ozarks where he enjoyed boating and relaxing with family.
"It's one of the things I've been looking forward to doing more of," Larry remarked in a phone interview last night.
Besides being a postmaster, Hobby has farmed for 40 years. He and Judy still live on the farm in rural La Harpe between Terre Haute and La Harpe in Hancock County.
Larry began as a substitute Mail Carrier in Stronghurst for Doran Smith in 1990. After 1-1/2 years Smith retired and Hobby began full time on July 25,1992.
"There was not too much change for me by then," Larry said. " Doran had been ill and I had been working quite a bit and had gotten use to the routine. It has been a very good job, and I've appreciated every person at the post office," Hobby said.
"I've always enjoyed (Postmaster) Rita Ferguson. She knows her job and does it well.
Hobby began working with Rita and other postal workers: Linda Clifton, Alma Jean Smith, and Dorothy Simpson.
Six days a week Hobby would sort mail at the office from 7:45 a.m. until 9:30 or 9:45 p.m.
The rest of the time he would spend on the route for 4 hours.
He began with 200 customers and retired with 270 customers.
Most of the additional stops came about due to changes in the postal system that allowed more in town deliveries.
When he started, the only customers in town were on the highway or at the retirement center.
"I got to know a lot of really good people around Stronghurst I didn't know before."
On a sadder note, he remembers a lot of people on his route who have passed away.
Hobby recalls a few surprises along the way during his 14 1/2 years.
"Once, I opened a mail box and a mouse jumped right in the car with me. Another time I opened a box and a bird flew in my door and hit the window on the driver's side.
"I learned to be on my toes.
Hobby also recalled special holidays when customers would leave him special gifts of candy and homemade items.
"There were a lot of very good people on my route," he said. "I'll miss them."
And as far as the weather, "There were a few tough winters, but only 3 or 4 days in all that I could not get the mail through. I drove a 4-wheel drive vehicle which helped. The last few years, the weather has been pretty good."
Hobby said there are still a lot of gravel roads, but for the most part, many roads have improved. There was a time north of Stronghurst near Dean Wetzels where he would have trouble with muddy roads, but the road is now blacktopped.
Hobby would travel the 270 boxes in Stronghurst daily putting 102 miles on his vehicle. He would drive almost to Raritan and through small towns such as Decorrah, Olena, Hopper, and back to Stronghurst.
Hobby farmed before but he said the United States Postal job has given he and his wife very good benefits and he has really appreciated the job.
He could gain a retirement plan and still work part-time on his farm.
"I've always had cattle," he said, and my son David Hobby farms the farm.
Larry also has a son Doug and a daughter Pam Brown along with six grandchildren.
They all live in and around La Harpe and enjoy vacationing together or separately at their Ozarks vacation home.
Larry and Judy also are involved in Agape Christian Fellowship Church in La Harpe and he is a member of the Gideons where they distribute Bibles to schools, hotels, and doctors offices.
As a mail carrier, he enjoyed being a bit of a traveling missionary when he could. He pulled a few out of ditches, carried milk to Davey Pendry - once in a while when he needed it, and once a man had a spill in the bathroom and fell and cut himself, and Larry helped patch him up.
Delmar Jacob who was Larry's substitute for 14 1/2 years has now been hired as full-time Stronghurst Carrier.
"He has been anxiously awaiting my retirement," Larry said. He laughed and then he added: "Delmar's been a very good sub, always available, never complains. I feel very good about leaving my job in his hands."
---