The Hancock-Henderson Quill, Inc.

---
Deacons brighten days with gift baskets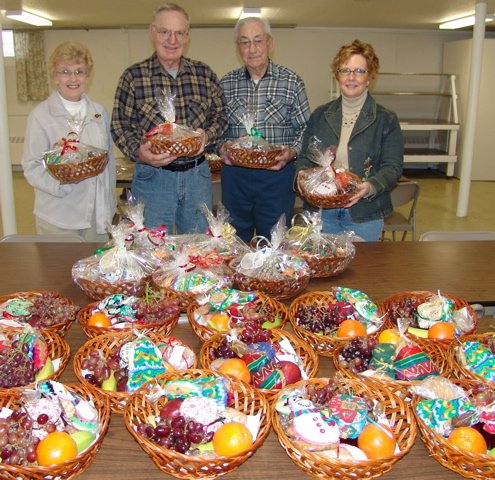 Deacons busy with making gifts baskets are from left: Barbara Liston, Steve Graham, Don Sloan, and Rhonda Peterson.
Other Deacons of the church are Nich Shafer, Peggy Shutwell and Phyllis Haswell.
The Deacons from the United Presbyterian Church of Biggsville were busy around Christmas preparing more than 25 gift baskets for the senior citizens in their congregation who were 80 or over.
It was a way of showing their older members that their church family was thinking of them in a special way and were wishing them a Merry Christmas.
Baskets were wrapped in cellophane and tied with a handmade bow fashioned into a beautiful angel. Each held bananas, grapes, apples, oranges, homemade cookies put into cute snowman bags, and homemade jelly. The jelly was of several varieties made and contributed by Debbie Sterett of Jacksonville, a member of the church who works in Springfield.
---