The Hancock-Henderson Quill, Inc.

---
Meet Your Neighbors-The Ameren IP Crew
- by Dessa Rodeffer/ Publisher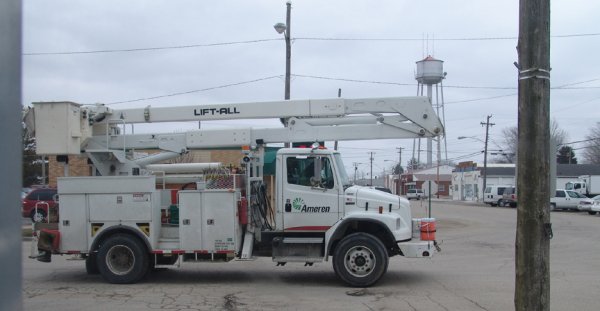 Ameren Illinois Utilities
Service Restored to More Than 59,000 since Saturday
Meet your neighbors, one of several Ameren utilities crews from the Lake Of The Ozarks and Jefferson City, Missouri areas helping out during the ice storm this past weekend.
They have helped restored power to more than 59,000 customers in the wake of extensive damage caused by the Feb. 24 ice storm that swept across the northern portions of West-Central Illinois. (AmerenIP's Galesburg District)
The Ameren Illinois utilities have deployed more than 700 workers to restore power to the approximately 17,600 customers who were still without power at 4:30 p.m. on Monday, Feb. 26.
The majority of the outages affeced customers in Galesburg, Galva, Kewanee and the surrounding areas with the hardest hit counties including Knox, Warren, Henderson, Mercer, Henry and Stark, according to Ameren Supervisor of Division I, Ken Woolcutt, Galesburg.
The storm coated trees, power lines and poles with at least one-half inch of ice. The weight of the ice coupled with strong winds of at least 40 mph damaged power lines and poles. In addition, the high winds caused ice-coated tree limbs and entire trees to topple into power lines and poles.
Ameren Illinois utilities brought in workers from throughout the state, as well as workers from Missouri-based AmerenUE.
Evan Brown who's worked with Ameren 4 years was in a crew of 19 from the Lake of the Ozarks and Jefferson City, MO who agreed to travel to Illinois to help repair lines. In December they volunteered to help in the St. Louis ice storm which kept them busy for ten days, and then in January had ice of their own in the Ozark area.
This weekend, they brought 10 line trucks and 5 pickups, he said. They were staying in hotels in Galesburg mostly doing work in the Biggsville-Kirkwood area.
According to Evan's supervisor Jim Golick, though the wind and cold is difficult, their biggest challenge has been finding their way around and mapping the area.
Although their equipment is high tech, he said they have been having difficulty finding towers to communicate. Marcia Cooper of Galesburg Ameren, has been escorting them around.
The biggest area these men were working on was north of Biggsville where 15 poles in a row were down, yet only one broken, plus one broken cross arm. His group has replaced a total of 5 poles.
Ameren Illinois utilized workers from utility contracting companies and Springfield's City Water Light & Power. They have diverted tree-trimming crews to the storm ravaged area to remove the large number of trees and limbs that have damaged the electrical distribution system.
The majority of services were restored by Monday and they were working to restore service to Aledo, Viola, Alexis, Gilchrist, Joy, New Boston, Keithsburg, Seaton, and part of Galesburg by around 10:30 p.m.
Most had their service restored by the end of Tuesday, but according to Woolcutt, some isolated outages may persist into Wednesday.
Treacherous working conditions continue to cause difficulty for crews in the field, and conditions remain quite dangerous.
Woolcutt said customers should call in to report any downed wires or other dangerous situations. Customers should stay away from downed wires and seek shelter from cold winter conditions.
Ameren also warned residents in the outage areas to stay from all downed lines. It must be assumed any downed line is a power line and is energized. It is especially important that residents not walk in outage areas after dark or to walk through brush. Residents who see a downed line should immediately call Ameren or local police authorities. AmerenIP - 800-755-7000.
Ameren, through its operating companies, serves 2.4 million electric and one million natural gas customers in a 64,000-square-mile area of Illinois and Missouri.
In Gladstone, Joyce Hetrick reported receiving calls of flooding in basements, as well as many broken tree limbs falling on power lines and property.
"When I opened the door I could hear crackling and breaking like I've never heard before."
Another time Joyce heard a loud noise at James Kelley's when snow came off their roof. There was lots of racket." The Hetricks had branches that fell on their dog kennel, and she could see downed wires on a house.
Pat Jones called to say she finally received power Monday night, but lost all the food in her house as did many in the storm-raged area.
All in all, several said they felt pretty lucky to have power lines back together and to be warm again.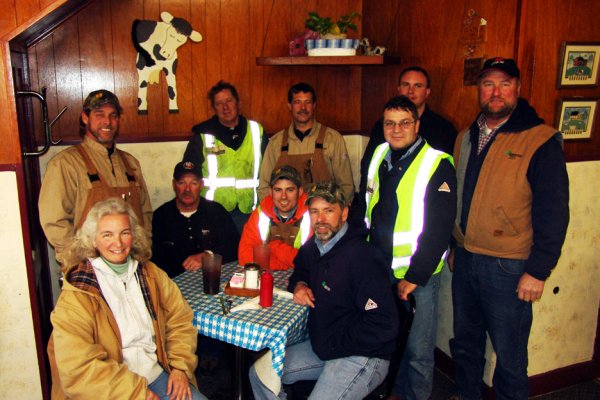 Many Ameren utility workers head back to work after enjoying a hot meal at Broadway Cafe in Stronghurst. Tuesday afternoon. Thirty or more came in for lunch from the Lake of the Ozarks and Jefferson City, Missouri areas.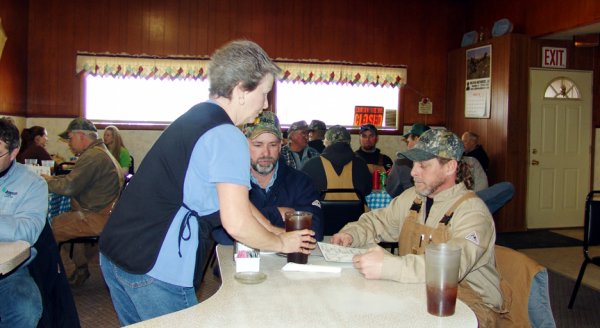 Diane Nesbitt of Oquawka waits on the last Ameren utility worker Tuesday noon as his supervisor, Jim Golick of Lake of The Ozarks, waits to pay the bill. Diane works six days a week at The Broadway Cafe for Carla and Russ Gardner and the three served 78 Ameren workers Monday and another 30 or more Tuesday along with their regular customers.
"It completely wiped us out of pork loins Monday," Carla said after they served 78 utility workers Monday.
In Carla's 17 years of operating restaurants she has always opened her doors extra hours in times of disaster to aide the workers.
Fallen trees in yards is a typical scene around the entire area. Many were without water. Infoban ran generators to keep the Internet going until power was restored.
---