The Hancock-Henderson Quill, Inc.

---
First State Ag Strategies Enjoys 20th Year
by Dessa Rodeffer, Quill Publisher/Owner
First State Bank gave away some extra gifts during last Monday evening's Ag Strategies Dinner. It was the 20th year they have treated farmers and their spouses to a dinner out with a program relating to agriculture.
Each year, farmers leave their guess on the table of what they think next year's corn, soybeans, Dow Jones Ave., and Wall Street Prime Rate will be Dec. 31st, and the winner is announced the following year. This year, Gene Scanlan of Rural Carthage (Burnside) was awarded the $100 Savings Bond for being the closest. December 31, 2006 prices were Corn $3.56/bushel, Soybeans $6.66/bushel; Dow Jones Ave 12,463.15, and Wall Street Prime Rate 8.25%.
Andy Bastert organized the first Ag Strategies seminar when he moved to Carthage to take a job with First State in 1987. He grew up on a dairy farm outside of Camp Point and is a 1982 WIU graduate.
As part of the Ill. Ag Leadership Class of 2006, Bastert had the privilege of traveling to New Zealand and Australia in 2006 and shared photographs and highlights. Briefly, his findings from his amazing trip were:
Prepare for the end of farm subsidies. Be Aggressive
Quickly adopt new technology Consider different ways of doing things.
Look at technology from other countries. Focus on customer needs
Develop and promote a positive image.
And Bob Rhea, raised in the Camp Point area as well, has a Farm Business and Farm Management career, taught high school Agriculture, has his Masters Degree from the U of IL and instructs tax schools for them as time allows. He has given the"Top 10 Ag Strategies" for First State's seminar since 1988. This year's top ten are:
#10 Manage with high value and low cost to maintain profitability. 9 Find your food & energy position. #8 Land values will dominate farm plans. #7 Re-evaluate your health savings account.. #6 FSA income will be a smaller % of your income. #5 Communicate clearly or miss the bus. #4 Utilize tax law changes to your benefit. #3 Stay in 0% tax bracket. #2 Consider short term loan interest rates (expectation, it will drop) #1 Deal with corn price volatility.
After a break of tea and cookies comedian-farmer Joe Hendren from Ohio entertained the crowd with his good clean humor about growing up on the farm. The audience enjoyed his interaction with the crowd.
Earlier, guests enjoyed a ham and hotel steak dinner catered by the Plum Tree Supper Club in Carthage. First State also gave away door prizes including stainless steel mugs in celebration of their 20th anniversary.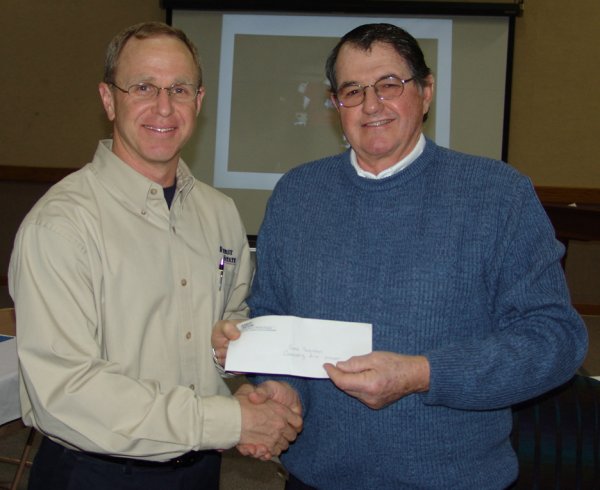 Andy Bastert (left) and Gene Scanlan
---