The Hancock-Henderson Quill, Inc.

---
Meet Your Neighbor
by Susan Galbraith - Quill Staff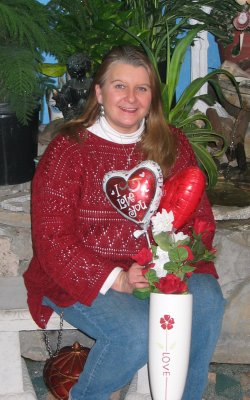 Meet Your Neighbor Cathy Burgdorf owner and operater of Tejai's Floral and Gifts at rural Oquawka.
Cathy's shop is a delightful show place of fresh cut flowers, specialty arrangements, green plants and planters, silk flowers and balloons, candles, cards, stones, memorial plaques and many other gift items.
She specializes in weddings, funerals and all occasions.
Her first exposure to floral design was when she was 8 years of age and lived in La Harpe. Glenn Poulter owned a floral shop in La Harpe and Dallas City and when Cathy showed an interest in floral design, Glenn invited her to his shop to teach her the basics of floral design. He was very instrumental in mentoring Cathy. She then became a member of a local 4-H Club. During her early years she won many awards including county, state, and also national recognition for her designs.
When she was a senior at Union High School she participated in a school/work program and trained at Das Blumenhaus in Burlington, Iowa. She was their top designer. At that time she was chosen to participate in national competition at King of Prussia, Pennsylvania.
She also was employed at Tiedemann Florist and greenhouse in Burlington, Iowa, where she learned propagating and care of many types of plants in their greenhouses along with the fresh floral business.
She was later employed by Green Thumbers in the Quad Cities and was their head designer for four years.
After that her travels took her to Los Angeles, California where she enhanced her knowledge, and trained many people in the flora industries. While in Los Angeles she learned to use many different kinds of materials in her designs which she now incorporates into her business.
Upon returning to Illinois she opened a full service floral shop named after her son, Tejai.
She was born in La Harpe and raised near Biggsville. She graduated from Union High School in 1976.
Her son, Tejai is 11 and a fifth grader at West Central Middle School. Tejai is also a talented individual with an outstanding singing voice. He has performed at Carnegie Hall in New York City with the Carl Sandburg Children's Choir.
Cathy enjoys spending time with her mom, Rhoda, and Tejai. She also participates in the Oquawka Methodist Church.
She has one sister, Linda Gittings, who resides in Burlington, Iowa; two brothers, David who lives in Haslette, Michigan and Kevin in Media.
Cathy has amassed 40 years of experience in the floral industry.
Cathy believes it is very important to support local businesses and new community ventures.
Stop by and check our her shop. You will be pleasantly surprised at what you see.
---