The Hancock-Henderson Quill, Inc.

---
Community Spotlight
by: Holly Willdrick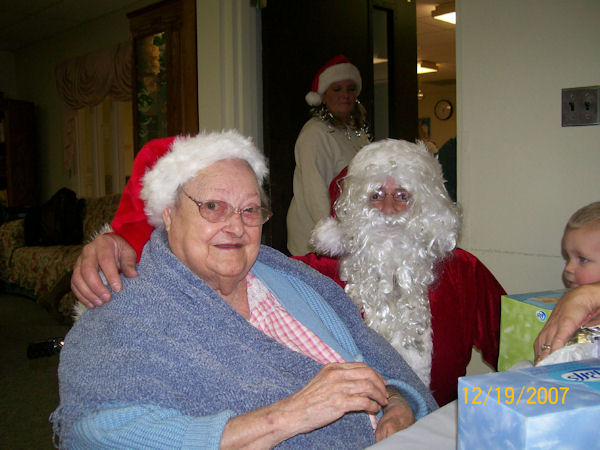 Santa came to visit with nursing home residents in La Harpe bringing them each a gift and a warm smile last Wednesday.
The event happened on the evening of December 19 at the La Harpe Davier Health Care Center. Many residents had their picture taken with Santa and their families.
It was an evening to remember as the staff at La Harpe Davier held their annual Christmas Family Night.
Residents along with around a hundred friends and family members gathered to celebrate the season.
A menu of chili, oyster or baked potato soup along with ham salad or peanut butter and jelly sandwich and two kinds of angel food cake were served. The center was all festive with holiday decorations and the residents had helped create a special tree in the dining hall in memory of Carl Burford in a red, white and blue theme.
Before the meal, Jessica Boyle and Mariah Myers play beautiful music on the piano for residents and their families, and after the meal they were entertained by Bonnie Chapin who played and sang several holiday songs on her Q Chord.
Many of the families shared how great it was to be able to gather with their loved ones during this special time of year. They truly appreciated the energetic staff for putting on such a wonderful evening.
The staff was overwhelmed with the large turn-out, and are looking forward and planning for an even larger crowd next year.
---