The Hancock-Henderson Quill, Inc.

---
Community Spotlight
La Harpe Elementary And Jr. High Music Holiday Music Program
By: Diane Mercer, The Quill Staff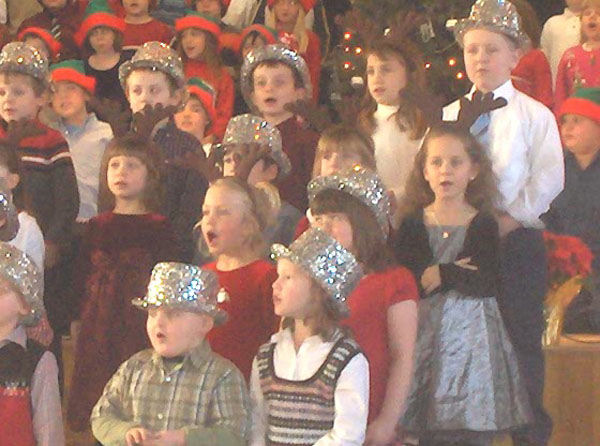 Even though ice and snow covered the ground, it did not stop proud parents, grandparents, friends and family members from coming to La Harpe to attend the Jr. High band and chorus Christmas musical Thursday evening.
Conducted by Mrs. Stephenie Mencel, La Harpe Elementary and Jr High Music teacher, over 50 students in band and choir performed their annual holiday music program, December 13, 2007 at 7 p.m. in the school's auditorium.
Performing such songs as "O Tannenbaum" by arr. Pearson and Elledge and "Boogie Woogie Holiday" by Greg Gilpin, students in grades 6th through 8th put on a show that was sure to ring the holiday for all that were present.
Shelby Day, 6th grade choir and band member, said that her favorite part of the program is "banging the percussion hard". Shelby is a band auxiliary percussion player in this year's band. Also performing was Karissa Wilson, 6th grade choir member, who just likes "everything" about performing for her family and friends.
The students began practicing and learning their music back in late August and have faithfully worked hard in music class preparing for Thursday night's program.
Mrs. Mencel and the kids have really enjoyed their time together and did a great job ringing in the holiday season for all to hear.
The Elementary School was not to be outdone though. Friday afternoon, December 14th at 1:30 p.m. with a jam packed auditorium, the Kindergarten through 4th grade put on their portion of the holiday music program.
Armed with reindeer ears, glittered hats, elves hats and tinsel, the kids really did a fantastic job for their friends and families.
Singing those "ole traditional songs such as "Frosty the Snowman", "Rudolph the Red Nosed Reindeer" and "Deck the Halls", over 50 kids stood in their positions with anticipation and smiles for all to see. Teachers, family and friends watched with anticipation and laughter as the children sang "Nuttin for Christmas".
Even though the program was about 30 minutes in duration, these kids left a lasting impression on everyone's heart as they joyously sang "We Wish You A Merry Christmas" for the grand finale.
---