The Hancock-Henderson Quill, Inc.

---
Snow Fall Hits La Harpe And Surrounding Areas
-by Diane Mercer, The Quill Staff Reporter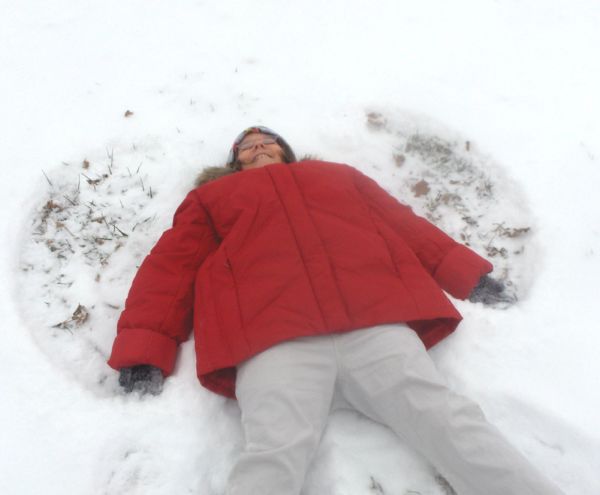 Thursday, December 6th marked the first day of the season's "Winter Wonderland" of snow. Snow fell late that afternoon and stuck for the first time this season. Children anxiously awaited for school buses to take them home so they could arm themselves with gloves, hats, coats and snow boots for some "snowy" fun. As the evening progressed, the snow continued to fall.
By Friday morning, it was estimated that La Harpe and some surrounding areas had received up to 2 inches of snow. Some areas, such as Fort Madison, IA and Keokuk, IA received as much as 4 inches of snow causing local businesses, schools, sporting events and churches to either cancel or delay their activities. Driving during this time frame was a bit tricky for some individuals, who went slipping and sliding all over the roads trying to make turns.
By Saturday morning, the snow had not melted and for some kids, it was time for more snow fun. Mahanna Mercer, age 8, of La Harpe enjoyed her Saturday morning making snow angels in the La Harpe Elementary School playground. For little Mahanna, it was an especially fun Saturday because this was her first ever snow fall.
Mahanna says, "snow is awesome and we don't see it in South Georgia where Mimi and Papa live". Of course, she was quick to point out to her mother, Diane, that buildings and houses were still covered with this snowy "fluff".Mahanna describes her first snow experience as "wet and cold but totally fun".
According to www.weather.com this is only the beginning of what appears to be "Snow Season" for this area. Bundle up readers, make some hot chocolate and read The Quill newspaper under your blankets while you watch the snowflakes and raindrops fall outside. (Snow covered home, across from the school)
---