The Hancock-Henderson Quill, Inc.

---
Scipio Experiences U.S. Navy Life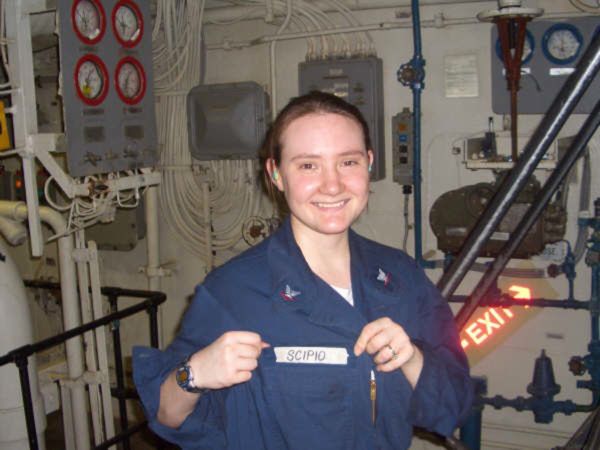 Jesse Lynn Grafton Scipio is in the United States Navy, stationed on the USS KEARSARGE (LHD-3).
She was born in Burlington, Iowa, and raised in Henderson County.
She graduated from Southern High School in 1999, attended Southeastern Community College for a year and a half, and then transferred to Monmouth College where she went for two years but was undecided on a career when Jesse felt called to join the Navy. She enlisted in December of 2003.
She planned to pay off her college loans, and hoped the Navy would provide her with opportunities to travel. Her brother Clayton, had been in the Navy for five years, and she decided to follow in his footsteps. Her grandfather, Robert McGraw was also in the Navy during the Korean War.
Her parents are Randy and Kathy Grafton who live outside of Stronghurst.
Jesse has one brother, Clayton, who now lives in Carman; two sisters, Corie (Brock) who lives in Cincinnati, Ohio, where they both attend college and Brittany who will be graduating from West Central High School in the near future.
Jesse married Henry Scipio in 2004, in Waikiki, Hawaii. They were married three years on December 4th of this year.
Her hobbies are collecting goldfish items and she has a variety of goldfish back in Norfolk, Virginia, which is where she and Henry make their home. She would like to try breeding and raising fancy goldfish and koi when she is discharged from the Navy. She has thought about having a fish farm and working with horses again, but is still undecided about what career path she will take. She also likes to read, write a little, and is trying to get back into painting.
Jesse's favorite thing to do is spend time with her husband. They have been apart, a great number times, due to deployments. He came into port about the same time as she was leaving.
Henry was officially done with his four years on the 7th of December and will be going to college in February for computer programming.
He was actually stationed in Pearl Harbor, Hawaii the first 2 and half years they were together and then transferred to the USS ENTERPRISE (CVN-65).
Jesse's military career started when she went to boot camp from December 2, 2003 until February 4, 2004. She remembers that being a very cold winter. The first couple weeks were hard at boot camp but after the initial adjustment she said it really wasn't that bad.
She enlisted for 6 years and was going to be a Nuclear Machinist Mate. That meant she would have worked in a nuclear powered engine room on an aircraft carrier. She said, "You'd be surprised how many people thought that meant she would be working on nuclear bombs! " Jesse was sent to Charleston, South Carolina for schooling. The school, in Charleston, is like 4 years of college rolled into a year and a half. She heard it was ranked second in difficulty to Harvard Law School. Jesse ended not making it through the program. "The percentage of folks who make it is very slim. I thought I was smart before I went, but it seemed that I wasn't as smart as I thought. You'd be surprised how smart some of these people were. I had one guy in my class who had a photographic memory."
After that, she was what is called "de-nuked" and made a conventional Machinist Mate. She is actually a Machinist Mate 3rd Class Petty Officer, or MM3 to make it simple. Jesse was then sent to the USS KEARSARGE in December of 2004 to work in a steam powered engine room. She worked there for about two years when they took her out of the "pit" or engine room and sent her to security. She said, "The engine room is hot, hard, thankless work and they transferred her because she was having horrible migraines.
Jesse currently works for security in a Master-at-Arms position where she will probably stay until her active duty is terminated unless the Navy changes its mind!
Jesse helps with the defense of the ship both in port and out to sea. She helps patrol the ship to make sure all the Sailors and Marines are behaving themselves, and also helps with training. The security position is kind of like the military police on the ship.
Jesse says, "For all the tough guys back home, I'm qualified with the 9MM, M-16, and the 240. The 240 being a pretty big caliber. Let me tell you, I had fun shooting that thing. Never thought I'd like shooting a gun. I carry the 9MM on most days".
She is working on making 2nd Class Petty Officer, but advancement for MM's is kind of tight right now but believes she'll have it for sure next go around."
Jesse actually keeps an atlas and marks their general route where they've gone so far and keeps track of all the countries she has visited while being in the Navy.
She also has been to a few places in the states while in port. Boston, Massachusetts for the fourth of July one year, New York City and Fort Lauderdale, Florida, for fleet week.
She was in Bahrain three times. Cartagena, Columbia, the Island of Curacao, which is a part of the Netherlands Antilles; Panama, but didn't leave the pier when there. Rhodes, Greece was one of her favorite ports; Al "Aqabah, Jordan (while there a rocket was fired at their ship), the Island of Malta; both Rota and Palma, Spain, also very nice ports. In Marmaris, Turkey, Jesse visited the ancient ruins of Ephesus, which was her favorite place, Dubai and Jebel Ali, and the United Arab Emirates three times. Dubai is the place with the worlds only 7-star hotel, and in Dubai the world's tallest building is being built. They also have the world's only indoor skiing slope in a mall, and have two islands in the shape of palm trees. The shopping is probably the best there of anywhere Jesse has been.
Jesse just became a Shellback on this deployment. That is a ceremony one goes through when crossing the equator. It's an old Navy tradition.
While Xmen 3 movie was premiering in Cannes, France, it was also playing onboard her ship. Jesse said the next day they pulled into New York, Hugh Jackman, Kelsey Grammar, and Halley Berry came on board. She was able to meet all three of them and get their autographs.
They just left the coast of Bangladesh, where they provided aid and supplies, after the typhoon, to the people there. Those were probably the most interesting things she has done.
Her ship and crew are still deployed in support of Operation Enduring Freedom and the War on Terrorism. They left on July 30th and do not know when they will be returning.
She and her husband were actually deployed at the same time but was sent home when his active duty ended. Jesse said, "There was one day when our ships were side by side briefly for a photo op. That was rough, knowing he was so close and not being able to see him."
This is Jesse's second deployment since being in the Navy. She has 2 years from December 11th when her five year stint will be done. Jesse said it gets lonely on ship even with all the people on board. A lot of people in the states tend to forget about all the sailors that deploy all the time.
They are out to sea as much as or more than a lot of soldiers. And there are a lot of sailors on land that are fighting and dying alongside the Marines. Especially the corpsmen that go with them to give medical aid.
Jesse said, "Maybe you could ask, everyone at home, to let other deployed sailors know they aren't forgotten." Jesse knows she is really lucky to have a really great family back home that supports her.
There are two other sailors from this area that are on board with her. One is Abe Louden from La Harpe, whose mom works for Doc Schar at the vet's office, and the other is Chad Michell, from Dallas City, who played football with her brother.
"It makes one realize how small a world this is even if it doesn't seem like it when you are standing on the gallery decks on the side of the ship with nothing but water and sky for as far as the eye can see. That'll make you feel real small real fast."
Jesse loves receiving the Quill her mom sends her so she can catch up on the news in the area and hear about the folks back home. Especially during the holidays remember our military and take time to jot a note, send a card, an e-mail, or a package, but most of all please pray for them.
If you would like to write Jesse her address is:
MM3 Scipio, Jesse
WEPS/G-5
US Kearsarge (LHD-3)
FPO. AE 09534-1662
scipioj@lhd3.navy.mil
---