The Hancock-Henderson Quill, Inc.

---
All In A Season's Deer Harvest
Deer Harvest Keeps Vancil Hustling
by Dessa Rodeffer, Quill Publisher/Owner
I don't believe anyone works harder than David Vancil during Deer Season. From the moment deer season is open, to it's final day and beyond, the amount of hours and physical labor this man puts in is grueling.
David is second generation owner of Vancil's Locker in Stronghurst, a job he learned well from his father, the late Ellis "Bud" Vancil, Sr. who along with his wife Juanita, purchased the locker from Lou Arnold in 1966. Bud had worked for the Arnolds since 1947.
Bud passed away in 1979 and his right-hand man, David, has kept things going ever since. He and his wife Margaret bought the business that same year.
David had his son Doug helping butcher and daughter Amber wrapping processed meat, both third generation, and a fourth generation, Grandson Collin, age 8, was busy taking it all in, keeping track of everything when The Quill visited the locker plant on the last evening of the first shotgun season for deer prior to Thanksgiving.
"We have 228 deer so far," Collin said, in an excited voice, and more was to come in the morning after the first harvest was officially closed, bringing that total to 241.
David said that now that deer hunters call their deer into an 800 number or online through a web site with the Illinois Department of Natural Resources (IDNR), Vancil is no longer responsible for keeping track of the numbers shot in the area. Many field dress and butcher their own deer that David never sees.
In their November 20th report, IDNR shows 85,490 deer were harvested during opening weekend of this year's Nov. 16-18 firearm deer season.
"We thank those hunters who participated in the first segment of the firearm deer season," they said in their November 20 news release.
Illinois has issued more than 378,000 firearm deer hunting permits for the 2007 season.
Hunters up north in Boone, DeKalb, Kane, McHenry, Ogle, Stephenson and Winnebago counties, took their deer to county check stations where IDNR conducts sampling for chronic wasting disease. Temperatures ranged from lows in the 20s and 30s to highs in the 40s in northern Illinois to 50s and 60s in southern Illinois during this first harvest.
Henderson County hunters reported a 586 take to IDNR in the first harvest compared to last year's 602. In Hancock County, an amazing 1,698 were harvested topping last year's 1,669.
Knox County reported 1,244 to last year's 1,130, and Warren County reported only 554 to last year's 587. Mercer County reported 828 to last year's 758 and McDonough County showed 902 in the first harvest to their 2006 report of 825.
The top county's first firearm harvest were Pike (2,610), Adams (2,140), JoDavies (2,055), Fulton (2,003), and Jefferson (1,997).
It's a lot of deer running loose throughout Illinois.
For Vancil's, David processes nearly half the take of the county, a lot for one man to do in 3 or 4 days. His hands end up swollen at the end of the day and standing on the cement and bending and turning from 8 a.m until 8 p.m. is not a job for the average man these days.
But Vancil followed in his father's footsteps, and perhaps his son Doug, 32, of Smithshire, and his grandson, Collin, age 8, will too.
A November 1972 newspaper account shows David and his father "Bud" featured on the front page of the November 22nd edition of the Henderson County Graphic Reporter (now The Henderson County Quill) with the headlines "168 Deer Checked In At Stronghurst In 3 Days."
It also shows his eldest son David Lee Vancil, Jr. at age 4, who is now a Judge, who decided against the locker job and took the path of law, rather than "tradition."
Vancil's Locker suffered a fire in 1976 in the Bicentennial year. Bud had the locker completely rebuilt. The late Dick Stone, welder, built the rail and post they use today. It's a 10K hoist that holds the rails up.
"I finally got smart enough to figure how to use it (to strip the skins off the deer). "My hands would swell so bad I couldn't stand it. It's quicker (using the hoist). I had everything there, I just got smarter."
Over the year, Vancil takes in 5 times more deer since the fire, due to more room. He said in 1993, the year of the flood, was their biggest return.
In an earlier story in the Quill November 24, 2004, written by Bonnie Johnson, it said, the locker located across from the Quill along Broadway street, was once a home for a horse stable, a Chevrolet Garage, a Ford Garage and in 1939 Otis and Lou Arnold along with partner George Lewis and sons, started the Henderson County Locker.
In 1954, Davison's garage located next to the locker plant, burned catching the locker on fire.
The early slaughtering was done at a location west of Oak Lane Nursing and Rehab Center on property now owned by Mary Alice Huntoon.
As a small boy, David recalled that they would hoist the carcass upon a trailer and haul it to the locker to be processed.
David said there are many regulations today - check lists, meat samplings, tests to be taken and sent in at his expense.
Vancil's regular butchering days are Monday and Thursday where he might have as many as 1 to 7 inspectors come in to watch.
"I tell myself that this is play, not work. It helps me to keep plugging along."
The locker is open 6 days a week, 8 to 4 and Thursday and Saturday, 8 to Noon. He says beside butchering, he can get anything you want, from BBQ sauce and juicy steaks to vegetables and the World's Best Chocolates!
David and Margaret are the parents of six children, Judge David, Jr., Arbry, Doug, Kristin, Amber, Brayden and 13 (14th in March) grandchildren who all live in the area.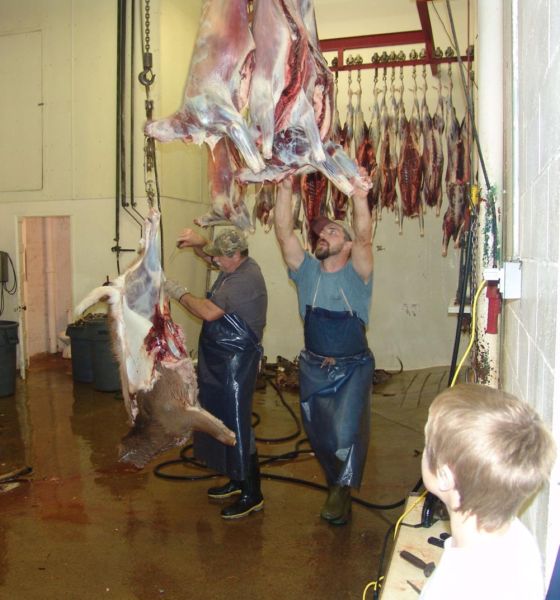 Collin Vancil, 8, watches while his dad, Doug Vancil moves deer to the freezer and his Grandfather David Vancil butchers his 228th deer in the first harvest.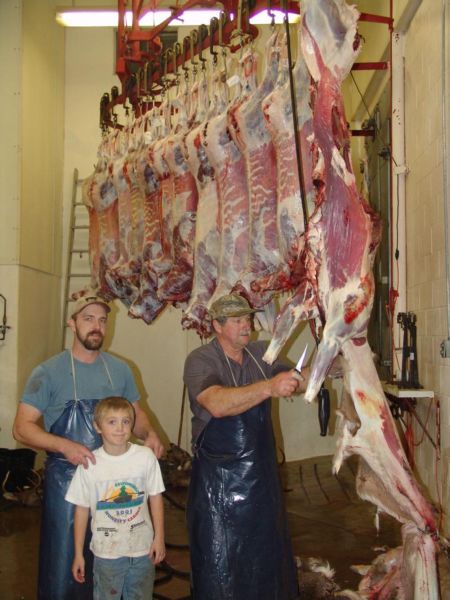 Three generations of Vancils, David, son Doug, 32, and grandson Collin, age 8 working in the first harvest of deer.
---