The Hancock-Henderson Quill, Inc.

---
Olde Tymers Serve Ham & Beans
If you like ham and beans the 2007 Olde Tyme Farm Show was the place to be on Saturday evening. That evening, wearing a current $2 Olde Tymers button, you could eat your fill of ham and beans and cornbread, too.
Janet Lafary with the help of her sons and family members, began heating the water at 9:00 a.m. in an old iron kettle in preparation of the popular traditional olde tyme meal.
At noon the beans went into the water, getting ready for hungry customers who starting arriving at 4:00 p.m. One hundred-fifty pounds of navy beans were cooked and 600 muffins baked.
While folks were eating their meal, they were provided with free vocal entertainment by the three Zimmerman sisters of Roseville.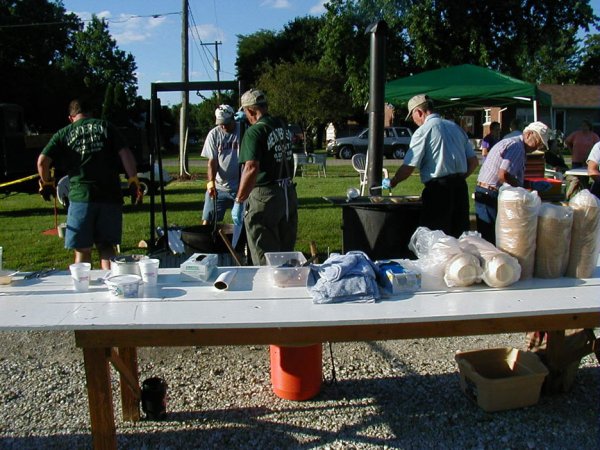 Roger Kelly, Media is serving the ham and beans; Norman Menzenberg, Stronghurst, dishing up the ham and beans; Dick Hopson, Raritan; Scott Lafary, Stronghurst and Johnny Lafary, Smithshire, are cooking beans.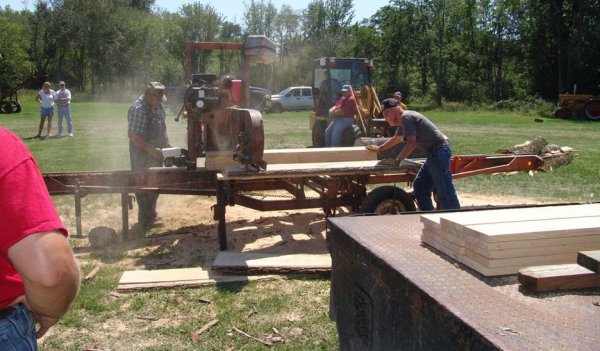 James Donsbach of Maquon drives 60-70 miles every year to show his 1988 Woodmizer Bandsaw at the annual Olde Tyme Show. He gets plenty of logs, plenty of help, and even some work out of it, he said. Now he is twice as busy, he said. Why do they do it? It is 40¢ a board foot rather than $3-$4! He explained air drying to 15% and then putting it in his kilns to take it down to 6 to 8% so it can be used it homes.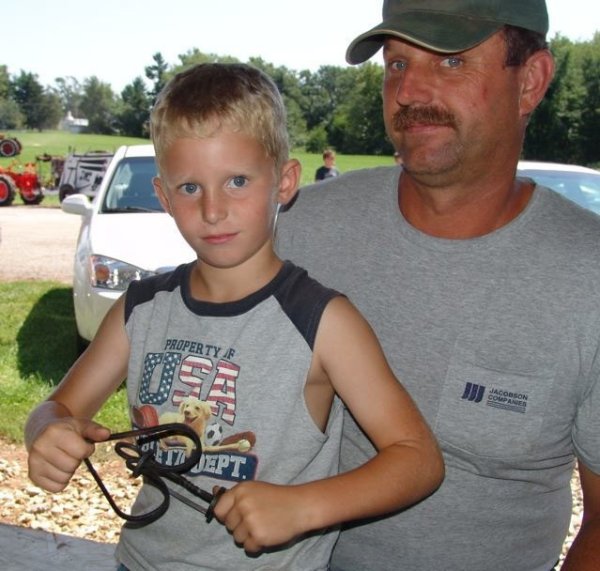 Mason Butler with his dad Phil, shows how easy he can solve a brain teaser the blacksmith made him.
---