The Hancock-Henderson Quill, Inc.

---
Community Spotlight
Memorial Bike Ride-Summerfest
by Holly Willdrick, Quill Staff
There was a wonderful turnout for the first year of the Annual Memorial Bike Ride which was held on Saturday, August 11th during Summerfest.
The ride was in memory of Evan James and Josh Palmer of La Harpe. Each lost their lives in the early days of the War on Iraq as they defended our freedom.
The money raised from this event was established for a scholarship fund for high school students of Illini West.
"It just makes you feel like everyone is thinking of you. You know they are not forgotten. There was a purpose for what they were doing, and we need to support them all, especially the ones still over there," said Carol Palmer, mother of Joshua Palmer.
There were two rides in the event, a short ride of 10 miles and a much longer ride of 63 miles.
"Even people who never ride have signed up to attempt it," said Donna James mother of Evan James.
Fifty-five bicyclists signed up for the 10 mile race andtwenty-eight for the 63 mile race.The 63 trek took riders north out of La Harpe through Sciota, Blandinsville, Fountain Green Township, and back to La Harpe from the south.
Many of the riders stated how they liked the route and that it was very welled planned with very few hills.
The idea of the Memorial Bike Ride was presented to the families by a total stranger. Evan's sister, Nicole Allensworth, works at a doctors office in Macomb and through small talk with the UPS Delivery guy, Chuck Nelson, he learned of her connection to Evan and Josh.
The families are very thankful to Mr. Nelson for getting the ball rolling for them.
"No better way to spend a Saturday than for a worthy cause like this," says the UPS Man (as he so loving has been nicknamed by the families).
What a wonderful way to remember Josh and Evan and show support for all of our servicemen and women.
"Not a day goes by that we don't think about them," shared Donna James.
Plans have already begun for next year's trek.So if you thought you didn't have enough time to get in shape to do it this year, there's plenty of time for next year if you start now..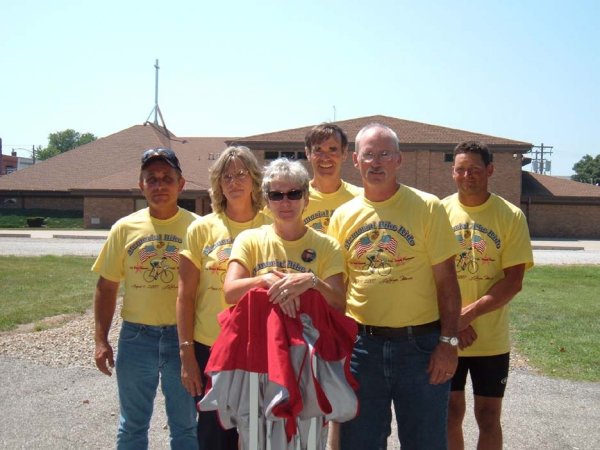 Back row - Doug Palmer (father of Josh), Steve Evans (family friend and helped organized), Dallas Tate (family friend and 63 mile rider), middle row-Carol Palmer (mother of Josh), Mike James (father of Evan) front row-Donna James (mother of Evan)
---