The Hancock-Henderson Quill, Inc.

---
Media-Wever to West Central
Looking Back On School Bus Transportation
By Pauline Overstreet
Busing students to Media-Wever District #103 schools was started by Loren "Cork" Van Doren in 1926. He converted a bread truck into a school bus.
In 1949 when the country schools consolidated into Raritan School District #8, F. E. "Bun" Overstreet, whose wife, Pauline, a niece of Cork's, was hired to furnish the transportation for these country schools; Sunnyridge, Bedford, Center, Duck Pond, Maynard, and Berry.
In 1965, Bun and Richard Blender contracted with Stronghurst District and this became South Henderson Community District #116. A fleet of 12 buses was purchased with Dick taking Stronghurst District, or the west side, consisting of Stronghurst, Carman and Shokokon and Bun running the east side consisting of, Raritan, Media and Smithshire.
In 1971, the two school districts voted to consolidate and became Southern Community Unit District #120.
Special education was introduced into the school. They began busing children to La Harpe in 1974 and advanced over the years to Ferris, Macomb, Dallas City, Union, Colusa, Durham and Carthage.
In 1978, Dick sold his half of the business to Bun. After 38 years of contracting, Bun retired in 1987. He sold the business to his daughter and son-in-law, Earl and DeAnn Waller. This was a family business for 75 years with buses having been contracted for 91 years.
They contracted to Southern District #120 until the year of 2001 and then sold the business to Steve Wisslead, Bryan Arnold and Johnny Livermore and it became known as Southern Bus Transportation.
In 2005, Southern School District #120 and Union School District #115 consolidated and is now known as West Central District #235. For two years Southern Bus Transportation contracted the Southern portion of the district and the northern end was serviced by the school owned buses.
In 2007 West Central opted to buy their own buses and not contract any buses.
In an article which appeared in the Burlington Hawk-Eye on September 19, 1971, it was quoted, "It's not a bad business," Overstreet said, "We will never get rich. If the school district did it, they would have to have a director of transportation and mechanics, and it would be costly. The article also states that Overstreet and Blender each held contracts with Southern to provide buses at 40 cents per mile. Their costs were 36-37 cents a mile for the 800 miles they drove each day.
Bus drivers, substitutes and special Education driver,Ê from 1926-2007 included: Loren "Cork" Van Doren; Gerry Thompson; Donald Roche; Hubert Vernoy; Francis "Bun" Overstreet; Richard Blender; Frank butler; Herschel Waddell; LaRoy Brooks; Bonnie Schmitz; Alcie Bailey; Wayne "Gabby" Stewart; Eldon Harden; Carlyle Johnson; Don Overton; Joann Overton; Nola Talbott, 35 years; Les Talbott; Dennis Overstreet; Janet Lafary; Esta Root; Kaky Rothzen; Delmar Jacobs; Bea Bundy; James "Dude" Bundy; Dan Vititoe; Anna Effland; Farrel "Hap" Nortrup; Doris Cowell; Jay Cowell; Jerry Niehaus; Dorothy Blender; Pauline Overstreet; Earl Waller; De Ann Waller; Clydean Waller; Leon "Swede" Johnson; Karen day; Darrel Burrel; Sherry Burrel; Jackie Wolford; Albert Renken; Anita Hawk; Robyn Mowen; Steve Wisslead; Jerry Nortrup; Wendell Wetzel; Lawrence Neff; John Livermore; Bryan Arnold; Johnny Livermore; Beverly Livermore; Nevada Nichols; Clayton Huss; Jens Notestein; Betty Waterman; Sherry McVey; Carol Lillard; Gene Skinner; Ron McVey; Ed Siens; Mary Dowell and Gene Hickenbottom.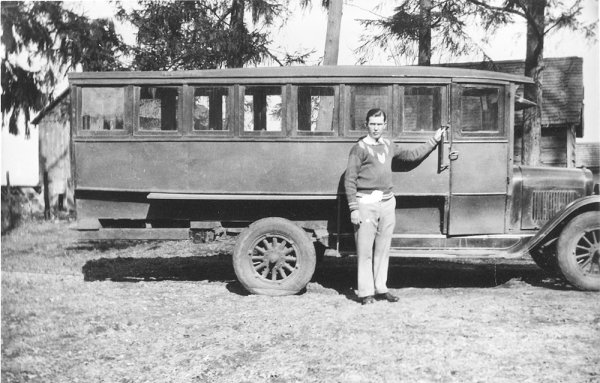 Cork Van Doren, 1926, in one of his first buses. He had a bread truck extended into a school bus (the last two windows)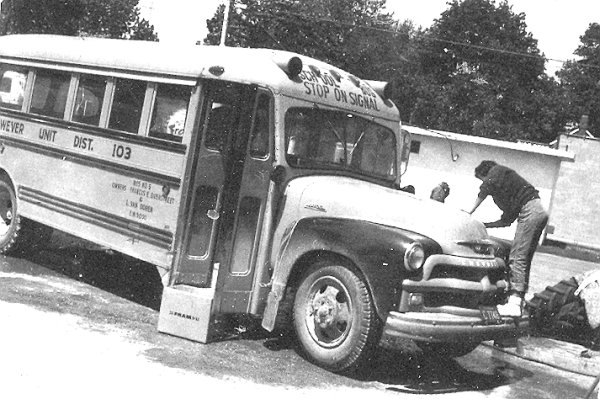 In 1954, the first new school bus was purchased, the second one owned to service Media District #103.
---