The Hancock-Henderson Quill, Inc.

---
Meet Your Neighbor
by Susan Galbraith, The Quill
Meet Your Neighbor John Eckley of Oquawka.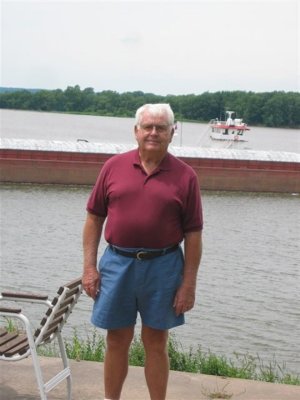 John has been retired since 1987. He was a school teacher for 12 years. He taught at G & O (Gladstone-Oquawka), Union, Biggsville Grade School, Alexis and Galesburg.
He was in the Coast Guard from 1950-1953. John has a grandson who followed in his footsteps, and recently left the Coast Guard after 4 years of service.
He and his bride of over 50 years, Peg, reside in Sarasota, Florida, seven months of the year and the remainder in their beautiful scenic home on the river in Oquawka.
John was born and raised in the Monmouth area, the son of Ralph and Marcia Eckley. His father, Ralph, was born and raised in Monmouth. His dad worked at the Review Atlas for 75 years before his death.
John graduated from Monmouth High School in 1949 and graduated form Monmouth College in 1958 and received his masters degree from Western Illinois University in Macomb.
John and Peg are the parents of four sons and one daughter. John who is employed by Monsanto (Toni) a teacher, who live in Bloomington, George, who is employed by Home Depot, (Tina) employed by Pitney Bowes, Steve who is employed by Shipley's in Burlington, Iowa, (Debbie) who is an associate at West Central, and live in Oquawka, Robert, a commercial fisherman, (Deb) a house mom, Cordova, Alaska, and one daughter, Patti, a home school mom, (Terry) who own Cook Construction of Monmouth.
He and Peg have seven grandsons and two granddaughters, Willie, Andrew, Aaron, Eli, Dane, Adam and Michael, and granddaughters, Katie, and Tracey.
John has one sister, Anne Haynes, (Jim), of Bushnell.
He enjoys golfing, reading and working on a computer that was a birthday gift from his children last year.
The present Eckley property, on the river, has been in the family since 1927. At that time it was a cottage but due to tornadic winds it was blown away and rebuilt in 1967. They moved to the present location in 1976 and added a garage and front section of the home. John and Peg have rented it out for 9 winters
Many generations of Eckley's have graduated from Monmouth College. John's dad, Ralph, his aunt Isal Schrode, John, and all of he and Peg's five children.
The farm home has been in the Eckley family since 1946. It was owned at that time by John's dad, Ralph. All five of John and Peg's kids have lived in that home at one time or another. Presently daughter Patti and husband, Terry owns and reside at the family homestead near Monmouth with their two sons.
John's dad purchased both properties from the same person.
A couple of years ago the same man's daughter came back to see John and Peg with 39 relatives on a Mississippi Queen Boat trip. Dick Work of Biggsville was one of them.
---