The Hancock-Henderson Quill, Inc.

---
Community Spotlight
by: Holly Willdrick, The Quill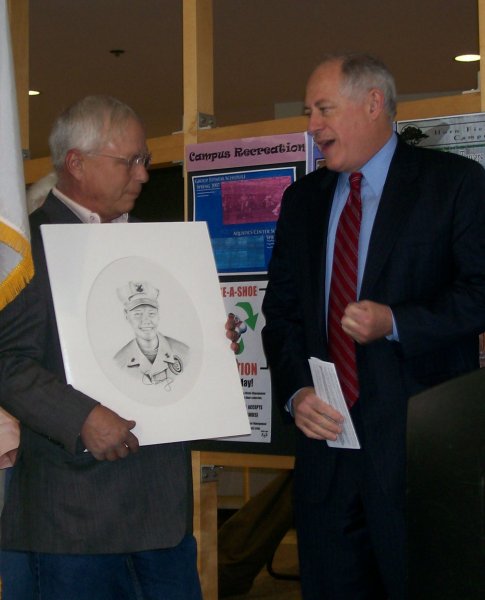 Lt. Gov. Pat Quinn was on the campus of WIU on Wednesday, April 18 for the unveiling of the "Portrait of a Soldier" memorial that features 150 portraits of Illinois men and women who have sacrificed their lives for our country.
The memorial was on display until April 24 at WIU and will continue to travel the state to show the amazing sacrifice of the young men and women lost in combat.
In attendance for the ceremony were members of the Western Illinois University ROTC and Color Guard, Mayor Mick Wisslead, Chamber President Penny Lawyer, WIU Provost Joseph Rallo who is a 26-year veteran of the Air Force, other members of the university and community, as well as many families of fallen soldiers.
Out of the 150 featured portraits were two from La Harpe, Marine Cpl. Evan T. James and Marine Cpl. Joshua D. Palmer.
James was assigned to Engineering Company C, 6th Engineer Support Battalion, 4th Force Service Support Group, with the Naval and Marine Corps Reserve Center, Peoria. James's death on March 24, 2003 is a mystery; the combat engineer (a one-time lifeguard,) drowned while trying to swim the 30-yard-wide Saddam Canal in south-eastern Iraq.
Palmer died on November 8, 2004 as a result of a non-hostile vehicle incident in Al Anbar Province, Iraq. He was assigned to the Marine Corps Reserve's 6th Engineer Support Battalion, 4th Force Service Support Group, headquartered in Portland, Oregon.
All of the portraits were drawn by 24-year old Cameron Schilling of Mattoon. Schilling drew his first portrait in August 2004 after a fellow Mattoon native and Army soldier, Spc. Charles Neely, was killed in Iraq. Schilling gave the portrait to Neely's family to convey his sympathy for their loss. Schilling, a recent graduate of Eastern Illinois University in Charleston, drew all of the portraits from pictures given to him by the parents of the young men and women. Quinn commended the dedication and compassion Schilling has shown to creating the memorial.
With several of the fallen soldiers' families in attendance, the presentation of the portraits was a somber event. Chris Young, father of Navy Petty Officer 1st Class Jennifer A. Valdivia of Cambridge, was presented with the portrait of his daughter for the first time. In a teary-eyed reception Young thanked Quinn for presenting this portrait of his daughter'.
"I think it is very important that citizens of Illinois have a chance to see this very special memorial because you can look into the eyes of each of these portraits and see a very special person, a real hero" says Lt. Gov. Pat Quinn.
---