The Hancock-Henderson Quill, Inc.

---
Sweet Smell Of A New Bus
by Dessa Rodeffer, Quill Publisher-Owner

After enjoying their first day on new school buses, West Central elementary students seem to agree, the sweet smell of a new bus is what they liked best about their new transportation service.
The school had leased ten big yellow school buses for next year, and one mini-bus but a call from the Midwest Bus Sales of Princeton asking if they would take early delivery of the fleet, resulted in the buses arriving over Spring break and in time to shuttle students back to school in style on their first day back after a long holiday weekend.
Illinois re-imburses 80% to schools for allowable transportation expenses which are necessary to provide students with adequate transportation.
"You can lease five school buses for the cost of buying one new bus," Grimm said. We were looking at either leasing 10 new buses or buying two for approximately the same amount of money, and with no difference in re-embursement.
The new school buses are a shot in the arm for practically everyone.
The school board who have been seeing rising costs in gasoline and high repairs from inheriting a very old fleet of buses are expecting to get rid of the considerable cost of big-end repair items plus reap a couple more miles per gallon in fuel economy with the new diesel Mercedes engines.
Superintendent Grimm explained, "These new buses claim to be 25% more fuel efficient. The old buses got 8 to 10 miles per gallon and these claim to get 10 to 13.
"If this holds true, it could reduce our annual diesel bill by $100,000. A 15% savings is pretty significant," Grimm said. Another factor the entire school district gains is a sense of pride in putting out a brand new school bus.
New safety features greatly enhanced the buses. There are no seat-belts as yet, but there is an active bill under consideration in state legislators hands that would mandate seatbelts in school buses, "but there's a cost issue," Grimm said.
West Central traded in 13 old buses due to a couple of buses not worth keeping, and received 10 new ones, he explained, which brings them to 14 full-size buses. This allows for extra activities and for back-up.
They also have a new mini-bus which brings them to two plus the "White Knight" van.
At the southern campus for the Middle School, West Central leases bus transportation through Southern Bus Transportation which has a fleet of 9 or 10.
They are in the process of researching and taking bids for the Middle School again. "It's an older fleet of buses in Southern Transportation. and we've included some requirements in regards to the age of the fleet and when met will significantly improve our over-all transportation at West Central."
Superintendent Grimm said, "Transportation is a huge undertaking. There is a lot of work that goes into hiring drivers, getting them trained, keeping current with license, CDLs, determining the routes, assigning trips, as well as keeping the buses tested and so forth."
Grimm added, "In both ends of the district, we have excellent bus drivers, and that will continue.
Before Spring Break was over, all the bus drivers and substitutes met at Country Fun for a mandated training session given by Midwest Bus Sales.
All 10 regular bus drivers and 5 substitutes attended which instructor Steve Hamrick said was a first to have 100% attendance at one of his trainings.
W.C. Drivers are:
1-Bob Olson, 2-Lance Steele, 3-Jackie Olson, 4-Julia Stogdill, 5-Rick Olson, 6-Jenette Stokes, 7-Karissa Kobus, 8- Rose Garner, 9-Matt Gray, 10- Kathie Curtiss with Joyce Bass driving the mini bus.
The five substitute drivers were also in attendance: Jeff Lox, Janine Harkness, Paul Druin, and Chris Nelson. Drivers learned about all the new safety features, including some that make it easier to go over their 75 point check-list each day before starting their routes.
Skyler Wonders age 14 of Gladstone says he enjoys the sweeter smell of the new school bus, most of all. Another West Central student, Jackie Collins of Gladstone, said she likes that they smell better and there is more space. Another student said, the windows seem bigger.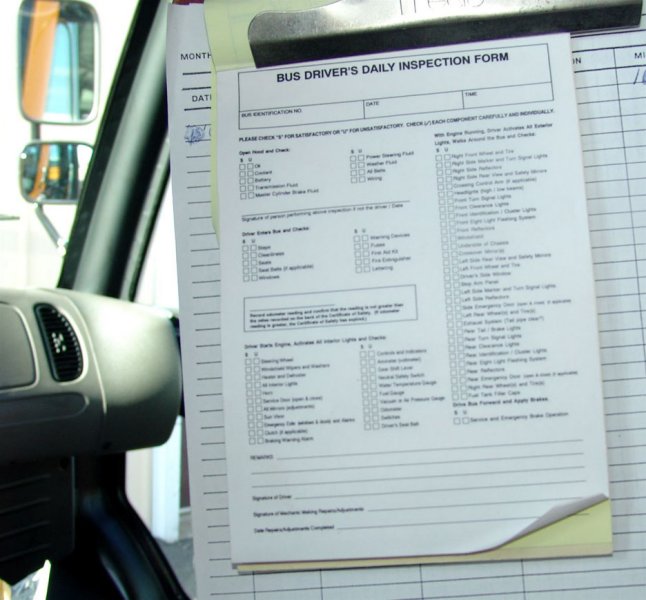 The daily inspection form each bus driver is required to fill out and turn into Rick Olson each day. The sheets are kept, according to law, in a box under lock and key for a specific number of years, Jackie Olson said.
"There are a lot of differences in the new buses," she said.
Jackie has been a bus driver the longest at West Central, 26 years. We will share some of her thoughts in next week's Quill.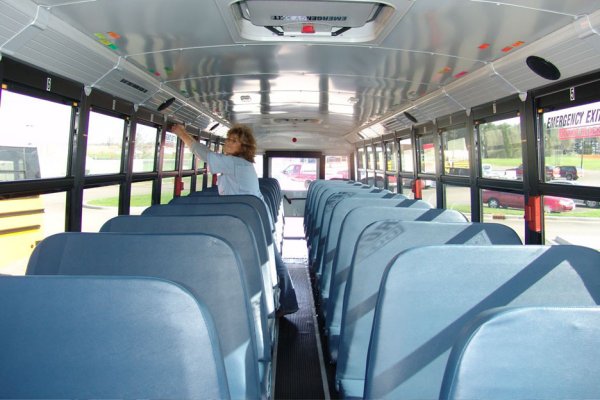 Jackie busy putting numbers above each row and students name on the ceiling above each seat to make it easier for students to find their places.
Jackie just finished waxing the floor of her bus and is known for being one of the cleanest on the campus.
---