The Hancock-Henderson Quill, Inc.

---
Visit Biggsville's Horse & Buggy Museum
-by Dessa Rodeffer, Quill Owner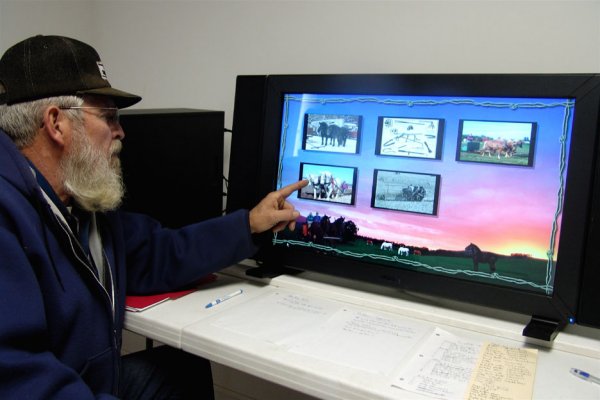 The Horse and Buggy Museum in Biggsville has been open since March 15th for the spring/summer season with hours Tuesday through Saturday 10:00 A.M. until 3:00 P.M.
At present, Jerry Weibel, a local farmer outside of Biggsville, has over 25 pieces of horse drawn equipment from the 1800s on exhibit in the museum's large 3200 square feet display area.
According to Weibel, there are many more items which will be rotating into an adjacent display area (formerly the old Biggsville library) that was purchased and then connected to the newly constructed barn-shaped museum.
Visitors to the museum will especially enjoy the bright colorful and detailed paintings of the historic bygone farming era. Adorned on the walls are sixteen beautifully framed farm prints by famous Wisconsin artist Lavern Kammerude.
Many of the items on display are actually depicted in the photos to give visitors a visual of how the equipment was actually used in the 1800's and early 1900's.
Kammerude painted farm scenes from his childhood memories of working alongside his father which included daily chores, and seasonal work of planting, making hay, and harvesting crops all done with the help of horses.
His latest book "Threshing Days" depicts farm paintings with text and is described as follows: "Welcome to a special place of hard work and respect for the land. Of friendly neighbors and family togetherness." His print Belgian Power says "Step back in time to a quiet place in the country where the days are long and the summer sun warms our back. Where the scent of new mown hay lingers, and the distant, rhythmic sound of work horses pulling in their harness drifts across ripe fields of grain."
Weibel said his dream is not complete, however.
Although he has spent a quarter of a million dollars on construction, property, landscaping, lights, and equipment, there is yet another phase he has planned.
Weibel and the volunteer staff have on the drawing board many exciting projects which they have the goal of accomplishing in the next two years.
Operating funds come from gifts and the admission fee. A matching fund grant from Illinois Tourism has been requested for $100,000 to fund a very exciting video system which will greatly enhance the museum experience.
The system will have eight 32 inch touch screen monitors which will interact with visitors to show how horses were used to farm in the earlier days of Henderson County.
These will enable visitors to press a photo they see on the display which will bring a video clip into action that will tell a story.
"It will be a great tool for school kids visiting," Weibel said.
He said they hope to have questions at the end to test them on what they have learned.
All in all it is a healthy undertaking. Weibel has already used 80 video clips to make 5 prototypes testing the concept. He also has already gone though 5,000 photos and selected 500 of them which he sent on to the producer who he hired to help with the undertaking.
The museum is being operated as a not for profit 401(c) 3 corporation, and is staffed by volunteers. Although the building is owned by Weibel, he leases it to the museum for a nominal amount.
Visit the museum and see the prototype of the new video system which is on display.
They are greatly interested in talking with anyone who can provide matching fund support for the project.
---