The Hancock-Henderson Quill, Inc.

---
Gladstone Holds "Meet The Candidate Forum"
by Dessa Rodeffer, Publisher/Owner
An hour-long Meet-The-Candidates forum was held at the Gladstone Community Center on Thursday evening, April 5th.
It was put on by concerned citizens and conducted by Larry Anderson of rural Gladstone.
Seven candidates are running for three trustee positions to take care of the Gladstone village affairs.
Some of the thoughts each expressed our as follows:
MIKE HOPKINS said he has lived in Gladstone 40 years and has served 16 years on the board. He said he has more time now to give to the village and he would like to help make the town better. He said he can communicate well and can talk to others in order to get things done. He has two grown sons.
"I'd like to help the town and see them get along better and improve on things. I think I can help people get along. We need to improve our water and our streets, and improve business in town."
BRYON SEBASTIAN has lived in Gladstone 44 years and said he has run a Sandblasting business the last 6 years. He's done what he can to help the city in the past and would like to work together as a board and make Gladstone a better place. "The board is pretty much divided and I want to see them work together."
DARLENE MANES
Darlene has lived in Gladstone 28 years, running a Day Care, being a homemaker, and running a photography business and taking care of children. She has served on the board the past 4 years and says, "There is a lot more to get done." So much takes cooperation and time, she said. "We want more growth and more businesses and things for kids to do."
"I bring different views and I want to try to do something for the kids. I also want to make sure the rules are followed the same for everyone."
Manes said there are good things they've done as a board like a better Christmas with Santa Claus and treats for kids and delivered treats to the Sr. Citizens. "I would like to see that continued. We worked with the scouts painting the ballpark and I'd like to see more things like that.
JEREMY DE WITT
Jeremy has lived 8 or 9 years in Gladstone and wants to be on the board to see what can be done. He has 3 kids and works for Industrial Fabrications the last 3 1/2 years. He would like to see more things for kids and for the town to be cleaner.
Jeremy said he is running to see what he can do. "People gripe and I want to see what the mayor or trustee can do rather than sit back and talk. My family is young and I have a different viewpoint."
A priority would be just to clean up and get rid of the eye sores.
Hazel "Sue" Stuart
Hazel "Sue" Stuart said she has lived in Gladstone 8 years and worked at Diamond Vogel, and with Pizza at Riverland. She said being on the board is new to her, but she was asked to run and thought she would like to do that. She would like to see the town larger and have more businesses. "I want to get out in the community more. She has a 37 year old son in Florida and a 40 year old daughter in Hawaii.
Sue said it was hard to know what she would like accomplished but she would like to see more things in the park for the kids.
FLO STEWART
Flo said she has served on the board for 8 years and enjoyed it the whole time. She has worked at West Central and has done Day Care. She has 4 children, and now has 8 grandchildren.
"We haven't accomplished a whole lot the 8 years I've been on here, but I'd like to run again," she said.
"I haven't seen much improvement. I'd like to see seniors taken care of, I think I can help. It's going to take a lot of doing because the board is so divided. I can't see if it ever will, but I hope it will."
As far as what I've done, "I can't say we've don a heck of a lot. I belong to the fire and ambulance departments but as far as giving to the ambulance, we never have.
LINDA SEITZ
Linda has 5 daughters and 2 granddaughters. She is an EMT, has worked at the nursing home, Meals on Wheels. She said she would like to see a big improvement in businesses in town and along the highway.
Linda said she likes being a part of the community and wants to bring the board together and get along. "There is not a lot of love around.
Seitz agreed with Flo that she didn't think they had accomplished much as trustees.
"I don't think we've accomplished a lot except we got a tractor and the water worked on.
When asked about someone's rental property that had limbs in the yard, Sebastian, Hopkins, and Manes all agreed that if it were a problem, people should come to the board and address it. Also, they said you couldn't just pick on one person but all should be subject to the same treatment. Rules should be followed and obeyed.
Stuart said she agreed that rules should be followed and obeyed. "We want to keep things cleaned up."
Seitz said, they should approach the board with their problems, and we need to follow up.
Flo said, "He isn't the only one. Others have tree limbs in their yard, too. What's in people's yards is their own business.
Jeremy said it was up to the homeowner.
When asked what the most important thing candidates thought was needed to be done in Gladstone:
Flo said 1-Decent water. People don't drink it because of the high nitrates.
Seitz said, Water, I have to buy it. And Stuart agreed.
Manes said they were trying to work on the water and they have applied for grants and done testing.
Hopkins said water is a problem and that he felt it was too big a problem to dump it on Don Olson and Tom Morrison. "They need help!"
Sebastian said he agreed with everyone and said maybe they could hook on with Galesburg.
Jeremy said he didn't know too much but that he had more expertise in kids needs
"How can you work together.
Manes: Talk about the issues and come to a decision together.
They go, work it out, come back with everything settled. I feel like I've wasted my time.
Seitz said, she wanted to hear ideas and doesn't care who brings them. "When on the board you shouldn't have personal feelings. You do what's best for the town." Hopkins said you have to be open minded and have common sense. Byron: Everyone should be treated the same.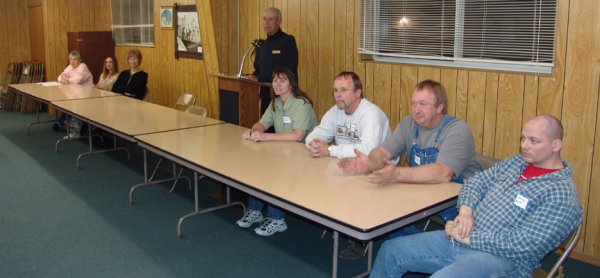 A Meet The Candidates Forum was held April 5th at the Gladstone Community Building for citizens to see and discuss their views. The forum was conducted by Larry Anderson of rural Gladstone. Vying for three positions are from left incumbent Flo Stewart, incumbent Linda Seitz, Hazel "Sue" Stuart, (Moderator Larry Anderson), incumbent Darlene Manes, Mike Hopkins, Bryan Sebastian, and Jeremy DeWitt.
---