The Hancock-Henderson Quill, Inc.

---
West Central Spotlight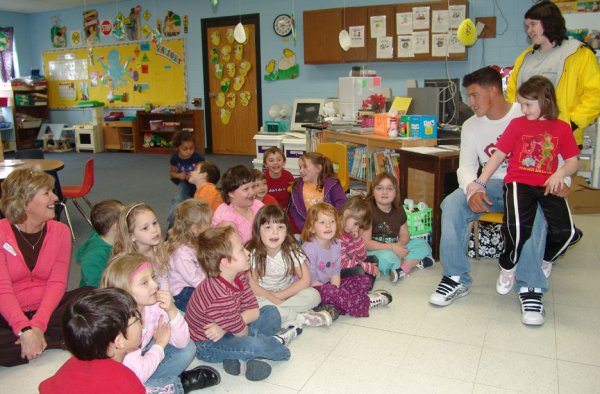 Aaron Landers, 2006 graduate of West Central's Visits Students
Returns to visit his young admirers, a U.S. Marine Headed For Iraq
Aaron Landers, 19, of Biggsville, returned home this week after ten months in the military in California enduring the dreaded basic training without complaint, and learning to be a machine gunner upon top a Humvee.
The U.S. Marine Corp has deemed him ready to fight in the war in Iraq as he is being deployed April 23rd from California by plane to Kuwait and then by truck to Ramadi, one of the hot spots in the war.
Aaron, who has been a resident of Biggsville for 13 years returned home this week for a short leave before he flies out Sunday.
The community is invited to an Open House in Aaron's honor at the Biggsville Community building this Saturday, April 14th from 2:00 - 5:00 p.m. It is open to the public.
His parents said, "I hope everyone will stop in and make this a special day for Aaron and show him that we at home are behind him and appreciate what he is doing for our country. His mother Debbie said, "We are so proud of him."
Sunday, April 15th, Aaron will be leaving for the Moline airport out of Biggsville by way of the Rozetta Junction and then onto Monmouth.
People are invited to line the highways and send him off let him know we are behind him here at home. The time he is leaving Biggsville should be around 2:15 p.m.
Aaron's parents are Shawn and Debbie Landers and he has two younger sisters, Jadee and Emilee Landers, all of Biggsville.
They went into the classroom of Mrs. Campbell where she and the children were excited to see him and ask questions about being a soldier.
Landers said the hardest part about going to the Marines was being away from home, and lack of sleep. He also said his mom's food is better.
He talked about learning to be a gunner and a few of the things they were allowed to take like laptops, C-bags, and backpacks - no cell phones, because they can be called and to set off bombs.
He also said he was to keep away from children and women who get into vehicles with bombs and then trigger them. They are trained to keep away from people and people away from their vehicles.
Aaron said it is good when he hears from people back home, and he said guys enjoy getting crackers, chips, and snacks.
Aaron said he trained 5 months in a "fake city" constructed outside Palm Springs. The Marines brought in 400 Iraqi people and set up an actual scenario as if in Iraq. We had laser guns using blanks, and underwent extensive life-like training.
Aaron said he was not afraid, but he knows to be very cautious. He feels prepared to go.
"Our training was pretty realistic." Aaron said. Aaron said his whole Battalion is being deployed for 7 months in Iraq."
Aaron visited others at school Tuesday his sisters remained close by his side.
---